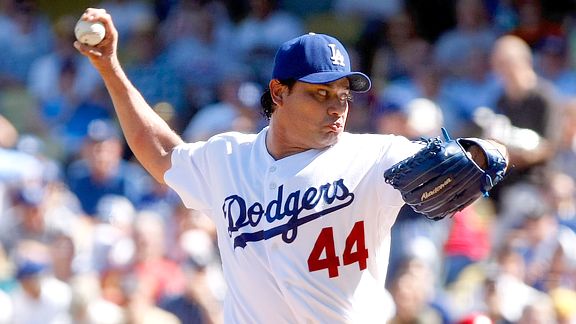 Jeff Gross/Getty Images
Vicente Padilla
It doesn't matter much, and I'm sure there's a reason for it, but I find it bizarre that the Dodgers have chosen Vicente Padilla to start on Opening Day April 5.
It's not needed to set up Clayton Kershaw to start the home opener eight days later. And in all my years watching baseball, I can't think of a rationale that would make Padilla the choice over Hiroki Kuroda or Chad Billingsley, both of whom have been with the team longer, contributed more to the team in the past year and have their own sentimental reasons for getting the nod. In particular, I would have thought Kuroda's comeback from a frightening injury would have given him the honor.
A one-month hot stretch by Padilla shouldn't trump those factors. Frankly, it's a decision that cries out to be mocked, despite its insignificance in the grand scheme of things. And heaven knows, lots of people enjoy new reasons to mock the Dodgers.
That doesn't mean Padilla won't go out and throw shutout ball — after all, that's what he did for six innings in his last appearance in Pittsburgh, nearly five years ago. But it still just doesn't feel right to me. Whatever reasons there were to choose Padilla, there were better reasons not to.