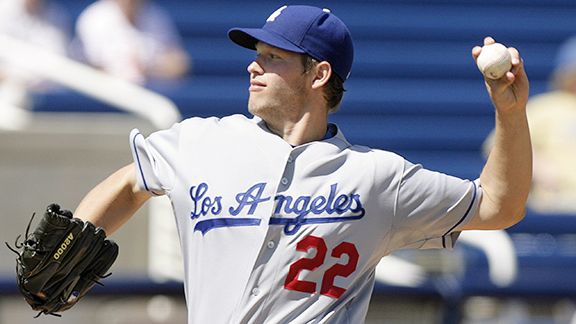 Paul Connors/AP
Clayton Kershaw
It was only two Marches ago that Clayton Kershaw emerged from the theoretical to the tangible with his "Public Enemy No. 1" to strike out Sean Casey in an otherwise forgettable Spring Training game. Just two years.
Now, Kershaw is a ripe old 22 years old, and most of the debate about him is whether he'll be great or merely good. And so today, as Kershaw cruises through six innings of his final March outing, striking out seven and walking just one while allowing one run on 99 pitches, Dodger fans don't need to marvel. They just nod and smile. "Yeah, we know."
In two blink-of-an-eye years, Spring Training is no longer a proving ground for Kershaw. It's merely a workout room, a waystation for bigger and hopefully better things.
Update: The latest on Kershaw's improved repertoire, from Dylan Hernandez of the Times:
Clayton Kershaw couldn't throw his curveball for strikes in the first couple of innings Sunday, something that would have spelled trouble at an earlier stage of his career.

But his fastball was working. So was his slider. And changeup.

According to a chart kept by pitching coach Rick Honeycutt, Kershaw threw seven of eight changeups for strikes and recorded three outs with the pitch. Seven of his nine sliders were thrown for strikes.

Relying on the two relatively new weapons in his arsenal, Kershaw was able to bide time until his curveball started dropping into strike zone. He exited his final Cactus League start having held the Cincinnati Reds to one run, six hits and one walk over six innings. …

* * *
There's a little tiff brewing, reports Ken Gurnick of MLB.com, between the Dodgers and Doug Mientkiewicz, who wants the team to release him before their Friday deadline so that he can have a better shot at getting a spot with another team. The Irony Committee has issued an approval on the fact that the reason the Dodgers want to hang on to Mientkiewicz as long as they can relates to the possibility of their first-choice lefty pinch hitter, Garret Anderson, suffering a major injury like Mientkiewicz incurred last April. He provided the example of the need to not grant his wish.
Working on his second consecutive day, Ramon Ortiz struck out two of the three batters he faced, passing probably the last test (other than waking up healthy Monday) for him to make the team.
Chad Gaudin signed with the A's, ending speculation the Dodgers might go for him.