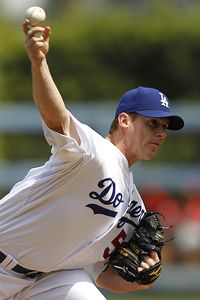 Danny Moloshok/AP
At age 25, Chad Billingsley has a career ERA of 3.55. His adjusted ERA of 119 is
fifth in Los Angeles Dodger history
among starting pitchers with 500 or more innings.
When the Dodgers gave Juan Pierre millions of dollars over my proverbial dead body, I didn't actively seek out immediate justification for my ill feelings. You never once caught me using any Pierre at-bat or game or even any month as proof that the signing was a mistake.
Good players have bad games; bad players have good games. Everyone knows this – no matter how often some people ignore it. Using a moment or series of moments as evidence that the Dodgers blew it with Pierre would have been wrong. Pierre's signing was a mistake because over the life of his contract, he wasn't going to be worth the cost. That didn't mean he wouldn't have hot streaks that made him look like the biggest bargain on earth. But the big picture is what matters.
Without a doubt, there have always been some Dodgers for whom fans seem to lie in wait for them to stumble, just so they can point out how awful they are. Pierre, for some, was certainly one. So was Hee Seop Choi and J.D. Drew. On the current Dodger team, the choice villains are Chad Billingsley and Jonathan Broxton.
The people who have it in for Billingsley and Broxton have an unfailing ability to dismiss all the good they do and make mountains of the bad. Broxton was by many criteria the best closer in the National League last year, but each blown save he had wasn't merely disappointing, it was unforgivable. No matter how good he was, he was worthless.
Billingsley is an even tougher sell these days because his struggles extended for about three months last year. Never mind that that period still constitutes a sliver of his career, never mind that the previous time Billingsley struggled, in the 2008 National League Championship Series, he came back to become an All-Star pitcher in the first half of 2009, building on the considerably excellent performance he has given since he broke into the big leagues. There are people out there who only see the negative. And there are people out there who, once they form that negative opinion about a player, only want to see the negative – just so they can be proven right.
Case in point: Entering the third inning of today's game, Billingsley had a 1.84 ERA this exhibition season. It didn't mean much to me, because no Spring Training stats mean much to me. You can bet that it also didn't mean much to those who have complained about Billingsley since last fall. But when Billingsley ran into trouble and gave up six runs in the third inning, suddenly across the Internet and Twitter you could find people shouting out about the latest proof of how awful he is.
I'm not happy when Billingsley gives up runs. I was crushed each time in both the 2008 and 2009 NLCS when Broxton gave up the big hits to the Phillies. But perfection is not an achievable standard, and one's state of mind in the heat of the moment is not a basis for evaluating a player.
If you're skeptical about Billingsley or Broxton or anyone else, you obviously don't need me to tell you you're entitled to your opinion. But don't get caught up in that game of  "Gotcha!" Don't take one moment and try to tell me that's all I need to know about a player – especially if that moment is in the minority of events. Just ask yourself how you'd feel if you were only judged at your extreme worst.
On a similar note, if you want to make an argument that the Dodger starting rotation lacks depth, please, please take a moment to compare the Dodgers' rotation with other rotations. Don't point out all the potential problems with the Dodgers while ignoring how threadbare things are in Arizona with Brandon Webb out, or the fact that just because Barry Zito was once an All-Star doesn't mean he's still one. The Dodgers might not have the best starting rotation in the NL West, but the distance from No. 1 is slim at best if you actually look at the entire rotations, rather than just making a judgment based on the most famous pitchers from each team.
Guaranteed, there will be some good players who get off to bad starts in 2010. There's nothing like the beginning of a new season to skew one's perception. But it's a loooong season.  Try to keep a cool head.
* * *
Carlos Monatsterios' place on the 25-man roster was made public today, while all signs pointed to Russ Ortiz getting the final spot on the team, according to Ken Gurnick of MLB.com, who also reported that left-handed hitting second baseman Blake DeWitt would get the Opening Day start Monday at Pittsburgh even with the Pirates starting southpaw Zach Duke.
Also, A.J. Ellis was optioned to Albuquerque, confirming that Russell Martin and Brad Ausmus would be starting the season as the team's active catchers.