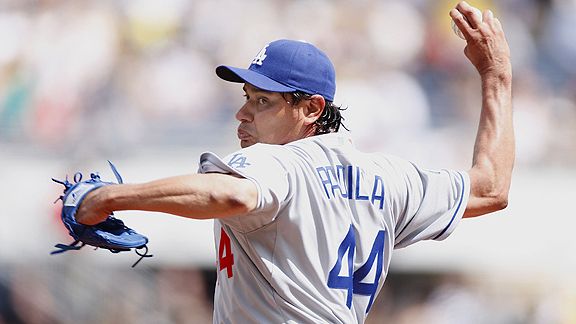 Gregory Shamus/Getty Images
Vicente Padilla allowed 11 of 24 batters he faced to reach base Monday.
The last time the Dodgers played a game that counted, Vicente Padilla started for Los Angeles in Pennsylvania and got pounded before the Dodgers tried to rally from a six-run deficit in the seventh inning — and almost made you think they would succeed.
In Philadelphia for Game 5 of the 2009 National League Championship Series, the Dodgers were down, 9-3, but scored a run and loaded the bases in the eighth inning with none away before James Loney, Russell Martin and Casey Blake made outs. Today in Pittsburgh, Los Angeles halved their 8-2 deficit and had the tying run on deck in the seventh — and at the plate in the eighth — before faltering and ultimately tumbling, 11-5, in their 2010 season opener.
Fortunately for the Dodgers, Wednesday's second game of the regular season should, if nothing else, break the Paddle Padilla Pattern.
The cup of Dodger offense was more than half-full today, pouring five runs on 14 baserunners but, unfortunately for them, stranding 10. Every Dodger starter reached base except Loney, who had an RBI groundout in the seventh on an 0-for-5 day. Rafael Furcal had a couple poor at-bats with runners on base before recovering with a single and walk late, and in general the Dodgers' missed some golden opportunities to score more, but it's not as if you could lay this loss on the hitters. Matt Kemp and Manny Ramirez each had a single and a double, Blakes Casey and DeWitt each had two hits, and Martin reached base three times.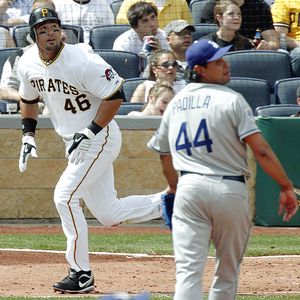 Keith Srakocic/AP
Pirates outfielder Garrett Jones homered to right field and left field in his first two at-bats of the season.
But it was Padilla who from the beginning looked very much like the castoff that he had been when the Dodgers signed him, rather than the savior who earned playoff and Opening Day starts. Granted a 2-0 first-inning lead on Matt Kemp's two-run single, Padilla walked the leadoff batter and then gave up a prodigious Allegheny River-splasher to Garrett Jones that tied the game. (I'll try not to belabor this point beyond today, but if Chad Billingsley had performed similarly in the first inning with a lead, there would have been calls from the usual suspects to institutionalize him.)
Padilla allowed at least two baserunners in each of the first three innings — escaping a bases-loaded, none-out jam in the second with the aid of a 1-2-3 double play, before giving up another homer to Jones in the third. He then settled down, relatively speaking, to get out of the fourth with just a single.
This being early April, you could make an argument to be made that the Dodgers should have cut their losses and gone to the bullpen before the fifth inning rather than extend Padilla farther, given the off days yesterday and tomorrow, but instead Joe Torre went by the book and stuck with Padilla into the fifth. (I'm not saying Torre did anything controversial — just that it wasn't likely that Padilla was going to do much better this day.)
In fact, Padilla was rousted in the fifth — HBP, walk, double — and with new reliever Ramon Ortiz unable to minimize the damage, the Dodgers fell behind, 8-2.
Carlos Monasterios had a 1-2-3 sixth in his major-league debut and Russ Ortiz struck out former Dodger Delwyn Young to end a Pirate threat in the seventh after the Dodgers scored three, but then after Andre Ethier's bid to tie the game in the eighth with two on base went awry, George Sherrill came out and gave Dodger fans even more to worry about, allowing a double, walk and then a three-run homer to Ryan Doumit. (Remember, Sherrill only allowed one homer as a Dodger last year, before the playoffs.)
It's just one game, and Dodger fans can calm themselves with the notion that by getting  Padilla out of the way, they should have matchup advantages on the mound for the rest of this series.  But Opening Day 2010 was certainly a reminder of Closing Day 2009 in all the wrong ways.
* * *
Ronald Belisario is making rapid progress in his efforts to rejoin the active roster, reports Tony Jackson of ESPNLosAngeles.com:
Belisario is scheduled to throw to hitters for the first time this spring on Tuesday, a significant move in his effort to rejoin the big league club. Belisario arrived five weeks late to spring training because of lingering visa issues in his native Venezuela, but club officials don't think he will need the full six-week equivalent of spring training in order to be ready. One Dodgers source said Monday that Belisario could be ready in as few as "15 or 20 days."