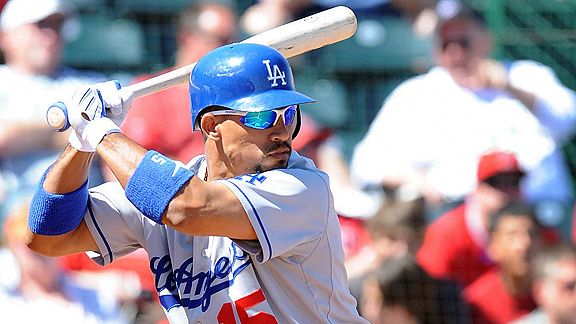 Lisa Blumenfeld/Getty Images
Rafael Furcal singled to start the 2009 season.
It's 181 days until the final day of the 2010 regular season October 3, and it never ceases to amaze me that the Dodgers' fate on only 20 of those days – the difference between, say, a 95-win season and a 75-win season – will be the difference between happiness and desolation. And 20 days is a generous estimate – for all we know, it could come down to just one.
But you don't get to find out in advance which 20 days it will be, and so we buckle up for another wild ride into the unknown. There is mystery, intrigue, thrills and not a small amount of comedy awaiting Dodger fans this season. Here's hoping it's once again a ride everyone can enjoy.
And of course, I look forward to spending the season with you all here. If you're having trouble commenting, e-mail me.
* * *
What did those schedulers know that we didn't? While it pours outside my window, weather today in Pittsburgh, according to The Associated Press, is supposed to be lovely with a chance of glorious.
Dodgers vice president of communications Josh Rawitch passed along these pregame thoughts from Joe Torre:
–Manny Ramirez has been very consistent with his balance, and Torre thinks he's going to be good offensively.
–Russell Martin has been hitting up the middle and to right the past 10 days – that, combined with his 6-for-12 history against Pirates starter Zach Duke accounts for his batting second today, and then they'll see where it goes from there.
–Chad Billingsley needs to regain his confidence. Sigh.
Ramon Troncoso and his wife had a baby girl Sunday, so he won't be with the Dodgers until Tuesday.
Baseball Analysts hosted a series of extended season preview interviews in a series called "Stakeholders." Among the participants: Joe Posnanski, Aaron Gleeman, Cliff Corcoran, Dave Cameron, Jonah Keri, Bernie Miklasz and yours truly.
The average Opening Day player salary has dropped 17 percent in a year. USA Today has updated its salary database to include 2010 salaries; here's their summary of the Dodger payroll. (Keep in mind that USA Today has its own way of factoring in deferred money.)
Some tidbits from the Dodger press notes: 1) The last time the Dodgers opened a season in Pittsburgh was the year of their first World Series title, 1955; 2) The Dodgers are 26-26 on Opening Day since moving to Los Angeles; 3) The five Dodger reserves have 60 years of major league experience; 4) Today marks the first time the Dodgers have had seven players from the previous year's Opening Day lineup since 1986-87, and the first time they were at the same position since 1978-79. (In 1979, of course, the Dodgers followed two consecutive National League West titles with a sub-.500 season.)
Update: USA Today with a major correction: Rather than a 17% drop in salary, the paper is now reporting a 1% increase.