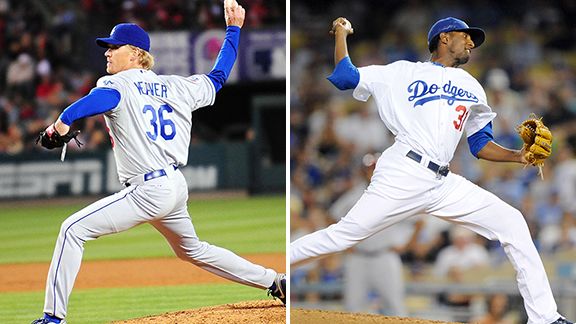 US Presswire
Jeff Weaver (left) is exactly the kind of pitcher major-league teams typically have in the back of their bullpen. James McDonald deserves to be on the Dodgers, but his front-line potential might explain why he's in Albuquerque today.
There's a difference between having junk in your front yard and having junk in your back.
By that I mean, it doesn't bother me as much that the Dodgers have retreads in their bullpen, as long as they stay out of the starting rotation.
People lose sight of it because of the recent success the Dodgers have had in relief, but bullpens are largely made up of retreads.  We know for a fact that there isn't enough quality starting pitching in baseball to come close to filling 30 major-league rotations, so why would the bullpens be bursting with star quality from top to bottom? It makes sense that they'd be comprised of pitchers who aren't even good enough to be mediocre starters.
In the bullpen, you're looking for guys who can put together for one or two innings what they can't hack over five to seven. And so it's not crazy to try your luck with a Jeff Weaver or Ramon Ortiz — or for that matter a newbie like Carlos Monasterios. Maybe with limited innings, they can excel. It might end up a failed experiment, but it's not a senseless one — as Weaver showed us last year.
That Weaver, Monasterios and the law firm of Ortiz & Ortiz pitched for the Dodgers on Opening Day was, I'm sorry to say, not a reflection of a franchise in divorce-induced disarray. It was nothing more than a reflection of major-league standard operating procedure when you're starting pitcher is knocked out early — especially when three of your top relievers — Hong-Chih Kuo, Ramon Troncoso and Ronald Belisario — were unavailable for circumstances beyond the Dodgers control.
In case that point needs underscoring, the World Payroll Champion New York Yankees used Chan Ho Park to try to protect a 7-5 seventh-inning lead on Opening Night in Fenway Park.
The one thing you might say the Dodgers should have done Monday was use Jonathan Broxton in the pivotal moment of the game — when Vicente Padilla was nearing his end with two runners on base and one out in the fifth inning of a one-run contest. But I won't hold my breath waiting for a Dodger manager to be that bold.
On the other hand, in the one Spring Training decision regarding the starting rotation that did require boldness, you can't say Joe Torre didn't deliver. Rather than go with a retread, Torre chose Charlie Haeger, whose major-league resume is shaky but comes with an upside that Weaver and the Ortizes no longer have.
Haeger, keep in mind, is only a year older than James McDonald and four years younger than Eric Stults. And what's interesting is that Torre seemed to have this idea in mind regardless of Spring Training performance — Torre was signaling his inclination for Haeger even before the knuckleballer started to turn in some good exhibition innings. With several over-30 options available, Torre went, relatively speaking, with a kid.
If Haeger fails — and who knows how much rope he has before failure is declared — we'll see if the choice to replace him is a retread or a younger player like McDonald or Scott Elbert. If I were in charge of the Dodgers, McDonald would be on the major-league roster today. He proved in 2009 that he could perform well as a major-league pitcher, with a 2.72 ERA as a reliever in 41 games as a reliever. Sending him down to the minors because he didn't pitch well in mid-March made little sense — unless it was part of a broader plan to make him the No. 1 option to replace Haeger by giving him some fine-tuning in the Albuquerque rotation.
I don't have much long-term confidence in Padilla, though he will have better days than he had Monday. I'm not going to sit here and say that the Dodger starting rotation couldn't be better. But I know this much: You don't judge a team by the back of its bullpen. And if you do, the Dodgers have little to apologize for in theirs.