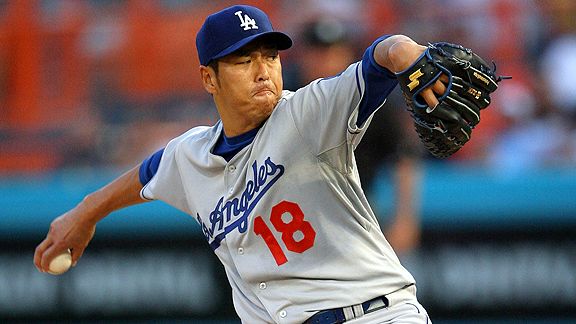 Doug Benc/Getty Images
Hiroki Kuroda didn't allow an earned run over eight innings in his first start of the season.
Stuck in a shutout duel for five innings and looking like he might be a hard-luck loser after six, Hiroki Kuroda emerged triumphant and then some.
Kuroda went eight innings in his first start of the season without allowing an earned run, by far the star in the Dodgers' 7-3 victory that evened their season record at 2-2.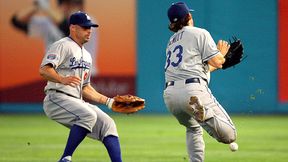 Doug Penc/Getty Images
John Baker's blooper fell for a double after Blake DeWitt nearly collided with Reed Johnson in the second inning Friday. Hiroki Kuroda struck out two of the next three batters to get out of the inning.
The 35-year-old righthander, whose 2009 season ended mired in injuries, allowed four singles, a bloop double and a walk (intentional) while striking out seven. Kuroda tallied his eight innings in 100 pitches, and with better defense behind him might easily have pitched a shutout.
The near-collision in the second inning between Reed Johnson and Blake DeWitt that led to the only extra-base hit off Kuroda, the error by Casey Blake in the fifth and the throwing error by Russell Martin (leading to an unearned run) were among the defensive lapses that kept Kuroda from an even more efficent outing. The mistakes could be said to be just three of those things that happen at a baseball game. But as much as people have focused on DeWitt as a defensive worry, it's pretty easy to point to half the eight defensive positions – second, third, left and right – and say the Dodgers have limited range there, compounded by the sometimes erratic play by Rafael Furcal at short and Martin behind the plate.
Even the best make mistakes. Gold Glove winner Matt Kemp and first-base artist James Loney aren't perfect, and perfection isn't expected. But the Dodgers are going to have to outscore or outpitch their defense a lot this year.
Fortunately for them tonight, they were up to the task, thanks to Kuroda and an offense that scored seven times in the final three innings. Furcal was 3 for 4 with a walk tonight and had two of the Dodgers' five doubles.
The night ended after Jonathan Broxton made sure Russ Ortiz's ERA didn't go unpunished after Ortiz loaded the bases on a single and two walks in the bottom of the ninth. Broxton gave up a two-run double to Wes Helms before striking out the final two batters of the game.
* * *
Andre Ethier remains day-to-day with a sore ankle, and figures to pinch-hit before he returns to the starting lineup.
Hong-Chih Kuo has a bullpen session scheduled for Sunday, which hopefully will greenlight his return from the disabled list within the next week.
Dodger Thoughts hero Pedro Guerrero visited the clubhouse and former teammates Rick Monday, Rick Honeycutt and Mariano Duncan today.
* * *
Scott Elbert had a whale of a first start tonight for Albuquerque. He pitched six shutout innings, allowing two hits, walking five and striking out 10 –  somehow needing only 96 pitches to do all that. Elbert, who twice pitched out of one-out jams with runners on second and third, left with a 1-0 lead, but Brent Leach couldn't hold it and the Isotopes lost, 4-3.