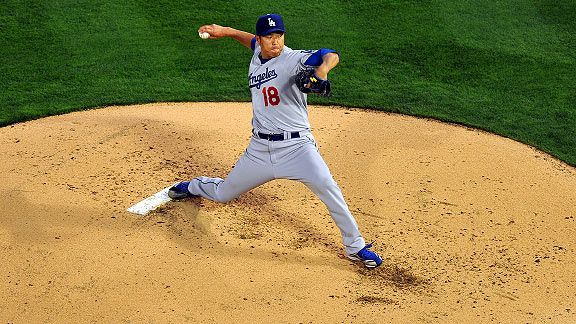 Doug Benc/Getty Images
Hiroki Kuroda was one of eight qualifying National League pitchers with a 0.00 ERA after the first week of the season.
This is an experiment, but I'm hoping it takes hold. It's my ranking of the most valuable Dodgers of the year, top to bottom, mixing subjectivity and objectivity but completely looking at what's already happened, not what's likely to happen.
If I can keep this going, expect it on Dodger off days (though no more often than once a week). We'll see … in the meantime, discuss, debate and enjoy!
| Rank | Player | Comment |
| --- | --- | --- |
| 1 | Hiroki Kuroda | Dodger Thoughts' pick for Opening Day starter comes through huge with no earned runs in eight innings. |
| 2 | Russell Martin | Great start (4 for 11, one HR, six BB, .611 OBP) for a player so many had given up on. |
| 3 | Charlie Haeger | Watching knuckleballs land for called strikes is a unique pleasure. |
| 4 | Rafael Furcal | Red-hot start ended with Sunday's 0 for 5. |
| 5 | Matt Kemp | Don't worry about the nine strikeouts – he's hittin'. |
| 6 | Casey Blake | Quietly leading Dodger regulars in batting average (.375); Dodger third basemen have combined for 1.300 OPS. |
| 7 | Ronnie Belliard | Slugging 1.000 in 12 plate appearances and even more shocking, dazzled on defense Sunday. |
| 8 | Reed Johnson | If you guessed he'd be tied for second among Dodger OF in total bases, congrats on picking Butler for NCAA title game. |
| 9 | Manny Ramirez | Batting average is there (.316), but no homers or unintentional walks in 20 opportunities. |
| 10 | Chad Billingsley | Control remains an issue, but for an early April start, results were encouraging. |
| 11 | Andre Ethier | .417 OBP in limited action (12 plate appearances) for the normally durable RF. |
| 12 | Ramon Troncoso | Has retired 12 of 14 batters faced with no strikeouts: 10 outs on the ground. |
| 13 | Jonathan Broxton | Little impact this year – through little fault of his own. |
| 14 | Blake DeWitt | No extra-base hits, but five walks compared with one strikeout lead to .450 OBP. |
| 15 | Jeff Weaver | If Jorge Cantu's liner goes six inches to the left, Weaver (five appearances in six games) might have been a first-week god. |
| 16 | Garret Anderson | A soft 4 for 16 (one walk, one double), mostly subbing for Andre Ethier. |
| 17 | Ramon Ortiz | Still need to be wary, but probably will survive the return of Hong-Chih Kuo. |
| 18 | Jamey Carroll | Looking more and more like defensive replacement for DeWitt will be major part of role. |
| 19 | A.J. Ellis | Did everything asked of him Sunday except block Haeger's three wild pitches. |
| 20 | Clayton Kershaw | Just a really sloppy first outing — he'll try to avoid Padillaing on Tuesday. |
| 21 | Carlos Monasterios | Being brought along gingerly: two appearances this season, both in runaway games. |
| 22 | Russ Ortiz | For want of three outs in garbage time Friday, the Dodgers' entire Florida weekend went south. |
| 23 | Brad Ausmus | Over-under on games played this year drops from 40 to 20. |
| 24 | James Loney | Two steals but only one walk and one extra-base hit lead to a .475 OPS. |
| 25 | Vicente Padilla | In a Dodger uniform, has four quality starts in 12 tries, including postseason. |
| 26 | George Sherrill | Why couldn't he have had visa problems? |