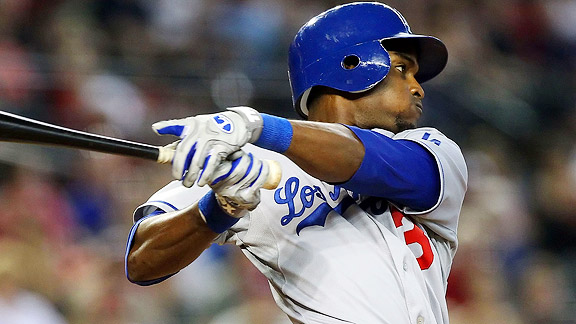 Christian Petersen/Getty ImagesEugenio Velez
Eugenio Velez gets the star treatment in this month's edition of Dodger Cogs and Dogs.
Velez, as you're probably aware by now, is threatening to have a historic season. He is 0 for 21 as a Dodger. Only three players in Dodger history have ever had more at-bats while registering a .000 season: outfielder Jose Gonzalez (28 in 1991, before he was sent to Pittsburgh) and pitchers Sandy Koufax (26 in 1957) and Brett Tomko (24 in 2007).
Now, Velez is a career .247 hitter, so the idea that he will go the final seven weeks of the season without a hit remains remote. So the hope is that he would get released right after breaking the record, but the continued injury problems of Dodger infielders seem to be preventing that (not that he shouldn't be released anyway).
Nevertheless, hope remains that Velez will set a futility record before he's done as a Dodger. Former Brooklyn catcher Bill Bergen has the longest streak of hitless at-bats by a non-pitcher, 46 – that's the record that Milwaukee's Craig Counsell recently threatened. What you might not realize is that Velez went hitless in his final nine at-bats as a San Francisco Giant last year, which means he's 0 for his last 30. That puts him within flailing distance of Bergen.
In fact, if not for a 12th-inning single on May 18, 2010, Velez would be riding a hitless streak of 47 at-bats. There but for the grace of Cesar Ramos goes he.
* * *
As always, the ratings below are a combination of subjectivity and objectivity. And as has been the case for the past few editions, a dose of impatience as well.
| | | | | | | | | | |
| --- | --- | --- | --- | --- | --- | --- | --- | --- | --- |
| Today | 7/21 | 6/30 | 6/16 | 5/26 | 5/5 | 4/28 | 4/7 | Player | Comment |
| 1 | 1 | 1 | 1 | 1 | 1 | 1 | 2 | Matt Kemp | Hasn't homered in past 10 games, but still has .873 OPS in that time. |
| 2 | 2 | 2 | 2 | 2 | 4 | 4 | 1 | Clayton Kershaw | His 13 HR allowed matches career high, with seven weeks to go. |
| 3 | 3 | 3 | 3 | 3 | 3 | 3 | 4 | Hiroki Kuroda | Leads NL in wild pitches with 11, has 23 in past two seasons. |
| 4 | 4 | 4 | 5 | 4 | 2 | 2 | 3 | Andre Ethier | Next double (No. 194) will tie him for seventh in L.A. Dodger history with Wes Parker. |
| 5 | 5 | 5 | 4 | 5 | 9 | 6 | 5 | Jamey Carroll | Best perfect season in steals in L.A. Dodger history is Eric Karros and Greg Brock with eight; Carroll is 10 for 10. |
| 6 | 11 | 12 | 10 | 19 | — | — | — | Javy Guerra | Has 0.55 ERA, 9.4 K/9 since June 11. |
| 7 | 9 | 11 | 22 | 17 | 18 | 20 | 24 | Kenley Jansen | His 14.8 K/9 leads MLB pitchers (minimum 30 innings). |
| 8 | 8 | 9 | 8 | 22 | — | — | — | Rubby De La Rosa | Ends up striking out 112 in 100 2/3 pro innings in 2011. Will still only be 24 in 2013. |
| 9 | 6 | 6 | 7 | 13 | 20 | 21 | 20 | Aaron Miles | .238 OBP, .286 slugging since All-Star break. |
| 10 | 29 | — | — | — | — | — | — | Juan Rivera | In less than a month, has matched or surpassed Thames in virtually every category. |
| 11 | 10 | 10 | 15 | 15 | 10 | 15 | 22 | Blake Hawksworth | Lefties were 6 for 60 with one homer against Hawksworth in 2011 before Phillies teed off in sixth inning Wednesday. |
| 12 | 7 | 7 | 16 | 6 | 6 | 7 | 18 | Chad Billingsley | In 0-for-15 slump at plate with eight strikeouts. |
| 13 | 24 | 21 | 23 | 21 | — | — | — | Scott Elbert | Opponents have .239 OBP, .244 slugging against Elbert since June 12. |
| 14 | 16 | 14 | 11 | — | — | — | — | Josh Lindblom | No homers allowed and has lowest WHIP on Dodger staff: 1.00 in 15 innings. |
| 15 | 13 | 23 | 19 | 8 | 11 | 11 | 13 | Mike MacDougal | Has 9.53 ERA in ninth inning, 0.98 ERA rest of time. |
| 16 | 17 | 15 | 12 | 16 | 7 | 5 | 10 | Casey Blake | Thanks for signing a baseball for my son Tuesday, Casey. |
| 17 | 20 | 17 | 6 | 10 | 17 | 18 | 14 | Ted Lilly | NL's first 25-25 pitcher (homers-steals) since Padres' Chris Young in 2006. |
| 18 | 12 | 18 | 29 | 28 | 14 | 17 | 12 | Tony Gwynn Jr. | Three hits, nine strikeouts in past 21 at-bats. |
| 19 | 21 | 19 | 13 | 9 | 13 | 9 | 6 | Rod Barajas | Has 10 HR, seven 2B. Rick Monday had 11 HR, one 2B in 1981. |
| 20 | 25 | 26 | 21 | 14 | 12 | 12 | 8 | Matt Guerrier | Eyeing sixth consecutive year with exactly one save. No MLB reliever has ever had seven. |
| 21 | 18 | 24 | 18 | 11 | 5 | 8 | — | Jon Garland | His 1.4 K/BB ratio (before injury, of course) worst since 2002. |
| 22 | 19 | 16 | 30 | — | — | — | — | Trent Oeltjen | Had two SB in MLB debut, has three in 65 games since. |
| 23 | 22 | 22 | 17 | 7 | 16 | 14 | — | Jerry Sands | 1.096 OPS at home, .640 OPS on road in Triple-A. |
| 24 | 14 | 13 | 9 | — | — | — | — | Dee Gordon | Current 6.0 SB/BB ratio (12/2) is top-five in NL history. |
| 25 | 27 | 25 | 28 | 20 | 21 | 22 | 15 | A.J. Ellis | Has .487 OBP in Triple-A road games this year. |
| 26 | 26 | 32 | 35 | 27 | 27 | 29 | — | Dioner Navarro | Had 1.038 OPS in 2008 ALDS. |
| 27 | 28 | 27 | 25 | 18 | 30 | — | — | Jay Gibbons | Nice play by Jay here. |
| 28 | 31 | 29 | 26 | 24 | 15 | 19 | — | Vicente Padilla | Dennis Martinez reportedly tutored Padilla on changeup as an amateur. Padilla is second all-time to Martinez in strikeouts by Nicaraguan pitcher. |
| 29 | — | — | — | — | — | — | — | Nathan Eovaldi | Fifth 11th-round draft choice by Dodgers to reach majors. |
| 30 | 34 | 37 | 36 | 29 | 25 | 27 | 11 | Xavier Paul | .331 OBP vs. righties this season. .115 vs. lefties. |
| 31 | 30 | 35 | 32 | 31 | — | — | — | Juan Castro | His last name is the same as a longtime ruler of Cuba. |
| 32 | 32 | 30 | 27 | 25 | 19 | 16 | 9 | Jonathan Broxton | Not expected to pitch again this season before late September, if then. |
| 33 | 15 | 8 | 14 | 23 | 32 | 23 | 17 | James Loney | Worst OPS in NL since All-Star break: .416. |
| 34 | 23 | 20 | 20 | 12 | 8 | 10 | 25 | Juan Uribe | Making little progress in recovery, reports MLB.com. |
| 35 | 35 | 36 | 33 | 30 | 29 | — | — | Russ Mitchell | Last week's PCL Player of the Week: 14 for 30 with 31 total bases. |
| 36 | 36 | 31 | 24 | 33 | 35 | 33 | — | Ramon Troncoso | In first MLB game, 4/1/08, faced one batter, got double-play grounder. |
| 37 | 37 | 38 | 37 | 32 | 26 | 26 | — | John Ely | K/9 ratio in Triple-A goes from 7.4 in 2010 to 5.9 this year. |
| 38 | 38 | 40 | 39 | 34 | 28 | 30 | 21 | Hector Gimenez | Three HR in 46 AB at Spring Training, five HR in 159 AB in Double-A. |
| 39 | 39 | 41 | 40 | 35 | 31 | 31 | — | Jamie Hoffmann | Set record for consecutive errorless games by PCL outfielder. |
| 40 | 42 | 39 | 38 | 37 | 33 | 27 | 26 | Ivan De Jesus Jr. | Had game-winning RBI in Chicago on May 2. |
| 41 | 33 | 28 | 34 | 26 | 22 | 13 | 19 | Marcus Thames | Last week, it was reported that Thames had suffered an undisclosed injury and left Yankees' Tampa facility. |
| 42 | 44 | 33 | 31 | 36 | 23 | 24 | 7 | Rafael Furcal | Has played every inning for St. Louis in nine games this month, with .595 OPS. |
| 43 | 43 | 42 | 42 | 39 | 34 | 32 | 23 | Lance Cormier | Rough July in Durham: 17 2/3 innings, six runs. |
| 44 | 41 | 34 | 41 | 38 | 24 | 25 | 16 | Hong-Chih Kuo | It says something about this town's appreciation of Kuo that no one has called for his release. |
| 45 | 40 | — | — | — | — | — | — | Eugenio Velez | Had a three-hit game against Dodgers in 2008, 2009 and 2010. |