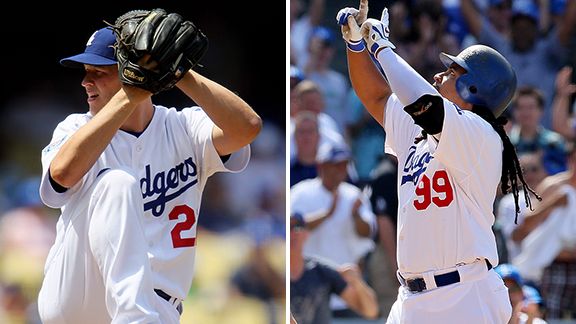 Getty Images
Clayton Kershaw went seven innings allowing only one run, and Manny Ramirez made that hurt go away.
If Clayton Kershaw and Manny Ramirez were nothing more than a poor man's Orel Hershiser and Kirk Gibson, it still made for a rich afternoon at Dodger Stadium.
Kershaw left Sunday's game in the eighth inning after issuing his fourth walk of the game – an inning after Juan Uribe's homer broke a scoreless tie – but he certainly pitched well enough to win, striking out nine. Two of his walks came after he crossed the 100-pitch mark. At age 22, Kershaw has walked at least four men in 21 of his 54 starts (39 percent), compared with Hershiser's 71 of 466 (15 percent), but if you can put that annoying fact aside, you're still left with a pretty swell pitcher with a career ERA of 3.40.
And then there's Ramirez, who is this century's go-to guy for lame home runs (in the good sense). On the heels (in the cliched sense) of his injured-hand Bobbleslam last summer, and right after Garret Anderson's pinch-walk ended a superb performance by Barry Zito, Ramirez blasted a Sergio Romo pitch in the left-field seats to rally the Dodgers from their 1-0 deficit. Ramirez noticeably favored one leg in his trot around the bases, but though it didn't have calf the drama of Gibson's gimpy gem, it was a sight for sore Dodger eyes. (Video of the homer can be found at MLB.com.)
Jonathan Broxton retired the side in order in the ninth to close out the Dodgers' 2-1 victory. Broxton has retired 17 of the 19 batters he has faced this season (including the past 14), striking out nine.
Several people, including Vin Scully, called today's game the best of the young Dodger season, though some of that good feeling would have been tested had the Dodgers been shut out for the second afternoon in a row.
* * *