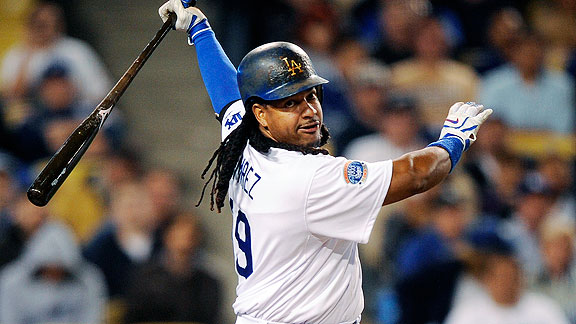 Mark J. Terrill/AP
Manny's calf is still mooing.
Russ Ortiz has been designated for assignment by the Dodgers, who have called up righty Jon Link to replace him for the time being. Link has been hit pretty hard at Albuquerque this season – 10 baserunners against 13 outs – so at this point he might just be a different sort of mop-up man until Hong-Chih Kuo is activated.
Today marks the 60th anniverary of Vin Scully's Dodger debut.
Saturday's 20-inning Mets-Cardinals game was scoreless for the first 18 innings, the longest a game had been scoreless since Rick Dempsey's 22nd-inning home run gave the Dodgers a 1-0 victory over Montreal in 1989.
Josh Towers pitched six innings of one-run, seven-baserunner ball for Albuquerque on Saturday, but the Isotopes suffered a 2-0 defeat.
Jerry Sands had two doubles and a triple in Great Lakes' 4-2 loss Saturday. The 22-year-old is on-basing .465 and slugging .763 in 10 games this season, with seven extra-base hits in that time.
Babe Ruth was in a near-fatal car accident in 1938, when he was a Brooklyn Dodgers coach. Blue Heaven passes along photos of Ruth and a description of the wreck.
Video of Lefty Grove has been posted at Minor League Ball. Grove was held captive in the minors well past the point that he was major-league ready.
Nice recap of Ubaldo Jimenez's no-hitter for Colorado – the first in Rockies history – from Troy E. Renck of the Denver Post.
According to the Dodger press notes, DodgerTalk with Ken Levine and Josh Suchon on KABC AM 710 will be soliciting callers for their best nicknames for Andre Ethier and Matt Kemp. Somebody better stick up for the Bison.