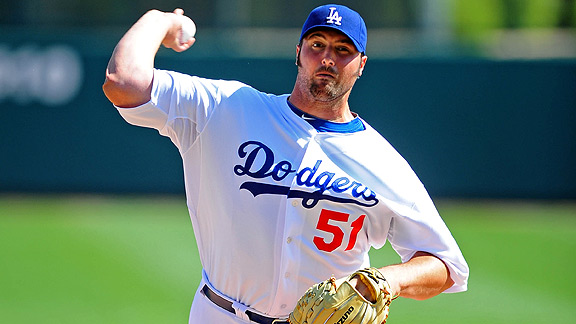 Mark J. Rebilas/US Presswire
Jonathan Broxton is the only impeccable Dodger pitcher this season, but he has only pitched 5 2/3 innings in 2010.
With the Houston Astros (6-10) on Friday winning their fifth game out of six, and Philadelphia and St. Louis losing, the gap between the top and bottom teams in the National League has shrunk to four games. By the end of the day, there's a chance that the Dodgers (7-9) could be part of of a three-way tie for the worst record in the NL – or a three-way tie for third place in the NL West, two games out of first. That should be enough to indicate how early in the season it is.
But I offer that up as much for me as any of you.
I've been disgusted by the pitching and the defense. So far this season, the Dodgers have only twice strung together as many as eight shutout innings: April 7 at Pittsburgh (in between giving up three runs in the first and the winning run in the 10th) and April 17 (2)/April 18 (6) against the Giants (the Dodgers won the second game). Four other times, the team has had at least five consecutive scoreless frames. That's it. Eric Stephen of True Blue L.A. writes, "The Dodgers lead the majors with 14 unearned runs allowed this season.  In 2009, they didn't give up an unearned run until the 20th game of the season." One's stiff upper lip quivers when the pitching and defense are that porous.
The offense is working, but we all know you need more than that. If the Dodgers can get their fielding above abysmal (Dodger Thoughts commenter Regfairfield has pointed out that the rate of mistakes they have made in 2010 is essentially unprecedented over a full season) and at least get the pitching to be competent, that will be enough for now. As you can see from the first paragraph, no team has broken out in the NL – Philadelphia and St. Louis have their issues, and the NL West is led by the team predicted to finish last. There's plenty of time.
If the offense unplugs while everything else remains sloppy, however, then this season turns into a disaster and, looking ahead to next year, puts much of the entire roster up for grabs while the McCourt divorce case drags on. As we sit here today, there might be as few as four players the Dodgers will definitely retain for 2011: Andre Ethier, Matt Kemp, Clayton Kershaw and Jonathan Broxton. Russell Martin and Rafael Furcal are likely to stay off the trade market if they can enough of their April performance. Everyone else … who knows? Some would have to stay, but they'd all be on the table. It doesn't really matter who – it would still be turmoil.
It's too soon to worry about this, but I do worry. But it's too soon. But I worry. But it's too soon.
* * *
Based on this Washington D.C. forecast, the Dodgers should avoid a rainout.
No Dodger reliever except Ramon Ortiz was used Friday.
The Dodger reliever with the lowest ERA this season (minimum six innings): Carlos Monasterios, 3.00.
Xavier Paul is starting today, but this brief from Ken Gurnick of MLB.com indicates he will be out there in the first inning only occasionally while Manny Ramirez recuperates. Despite Garret Anderson hitting a pinch-homer Thursday, I think the Dodgers would be better-served giving Paul most of the starts.
It's not exactly the same problem as Chad Billingsley, but wun-time onederkind Cole Hamels is being heavily scrutinized in Philadelphia.
Inland Empire's Ethan Martin pitched six innings of two-hit shutout ball Friday, walking three and striking out seven, in the 66ers' 1-0 loss. Martin's 2010 ERA is 1.80. With two shutout innings in relief, Kenley Jansen has a 0.00 ERA and 18 strikeouts against 10 baserunners in 10 2/3 innings this season.
Jerry Sands went 3 for 4 in Great Lakes' 2-1 10-inning loss. The 22-year-old Sands (he's about six months older than Kershaw) has a .485 on-base percentage and .879 slugging percentage this year.