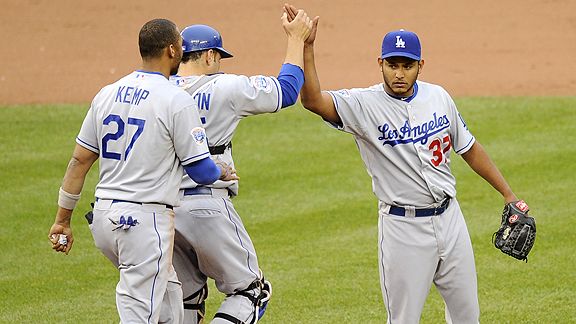 Nick Wass/AP
Carlos Monasterios, right, gets a high-five from Russell Martin, center, and Matt Kemp after the Dodgers defeated the Washington Nationals 4-3 in 13 innings Saturday. Monasterios isn't going anywhere for a while after his 2 2/3 extra innings of shutout ball.
See what happens when you get two out of three cogs working?
The Dodger defense help cause the team to play four extra innings Saturday, but this time the bullpen was up to the task while the offense did just enough. With Carlos Monasterios getting the final eight outs, the Dodgers defeated Washington in 13, 4-3.
The glow was tempered a bit with the news that Vicente Padilla was going on the 15-day disabled list with right forearm problems – the third Dodger to go on the DL this week. Reliever Jon Link has been recalled, but the Dodgers will make another roster move by Tuesday for a starter to take Padilla's turn in the rotation. But there was a glow nevertheless.
Clayton Kershaw (3.13 ERA in 2010) allowed 11 baserunners in six innings but went to the showers with a 3-2 lead thanks to Casey Blake's second home run. However, a Russell Martin throwing error – the 20th of the Dodgers' 17-game season to date – led to an eighth-inning entrance by Jonathan Broxton, who allowed the game-tying, unearned run (charged to Ramon Troncoso). Rafael Furcal's error an inning earlier also caused trouble; the Dodgers used four pitchers to get six outs in the sixth and seventh.
But the Dodger bullpen provided five scoreless innings at a most welcome time, with Broxton pitching the ninth, George Sherrill retiring all four batters he faced and then Monasterios (his ERA shrinking to 2.08) providing the final 2 2/3 innings to end it.
It wasn't without one more scare. Monasterios entered the bottom of the 13th with the one-run lead after Russell Martin (0 for 5 with the big error at that point) singled in Furcal, who had singled and stolen his eighth base in nine attempts this year (second in the National League). Monasterios allowed a one-out single to pinch-hitter Ivan Rodriguez and then a double to the right-field corner by Nyler Morgan. A faster player would have scored, but Rodriguez held at third – and then was thrown out at the plate by inches by Blake on the Nationals' next at-bat.
Cristian Guzman then popped out to end it. Monsasterios had come through. The Dodgers had come through. Even though Washington had gotten a runner to at least second base in each of the first nine innings, the Dodgers won.
From Ken Gurnick of MLB.com:
Monasterios, 24, generally keeps his emotions in check on the field but was jumping up and down in the infield like a Little Leaguer when he got Guzman to fly to left and end the game.

"That's the correct way, no?" Monasterios asked. "I'm very excited and happy to be on this team right now. This experience will give me a lot of self confidence."
Blake went 3 for 5 with the three RBI from his two homers, and Furcal, Matt Kemp and James Loney each had two hits. (Furcal also had a walk.)
With James McDonald on the AAA disabled list because of a broken nail ("Why tonight?"), the leading candidates to take the Tuesday start are John Ely, Scott Elbert and Josh Towers. Ely and Towers would require a 40-man roster spot, which the Dodgers have to spare if they move Brad Ausmus or Cory Wade from the 15- to the 60-day DL. Ely has the best numbers of the three: a 3.00 ERA over three starts covering 18 innings, though he has allowed 16 hits and eight walks against 12 strikeouts, and he'd be on five days' rest for Tuesday. McDonald could be activated from the DL next week, but would the Dodgers use him after the layoff he has had?
Elbert, who last pitched for Albuquerque five days ago and was scheduled as recently as Friday to pitch today, was replaced by Seth Etherton, so one might have concluded he'll get the call despite allowing 13 runs in eight innings over his past two starts. (He pitched six shutout innings in his first start of the year.) But Eric Stephen of True Blue L.A. points out that Elbert is with his wife for the birth of their second child, so who knows?
Also keep in mind, with the possibility of a rainout Sunday or Monday, the Dodgers might be able to postpone addressing this problem. Anyway, enjoy today's glow – a nice alternative to what could have been another dastardly disappointment.