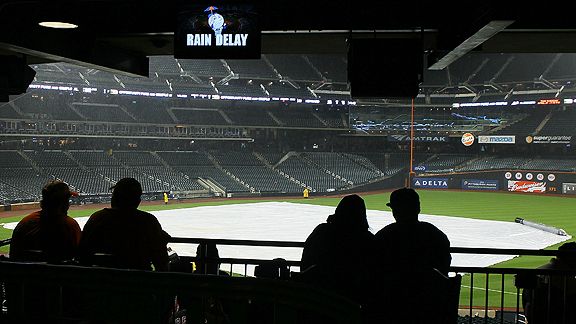 Jim McIsaac/Getty Images
Citi Field fans wait out a rain delay during the sixth inning of the game between the New York Mets and the Atlanta Braves on Sunday.
Spontaneously delivered to us by Coach Nature, Hiroki Kuroda vs. Johan Santana is a pretty great matchup for the first game of today's doubleheader. But the Dodger press notes point out that the last time the Dodgers played a straight doubleheader in New York, on August 14, 1990, the Game 1 matchup was Dwight Gooden vs. Ramon Martinez. Final score of that one? Mets 9, Dodgers 8, with both starting pitchers allowing seven runs.
Howard Johnson was right … on with a three-run homer in the first inning, giving the Mets a lead they never quite relinquished despite three hits and four RBI by Dodger leadoff-hitting third baseman Lenny Harris.
* * *
Vicente Padilla has an irritated radial nerve in his right forearm. The Dodgers say they have not set a timetable for his return; True Blue L.A. has more details about the injury, including a reference point with Tampa Bay's Matt Garza, who spent 16 days on the disabled list with it in 2008 but came back strong.