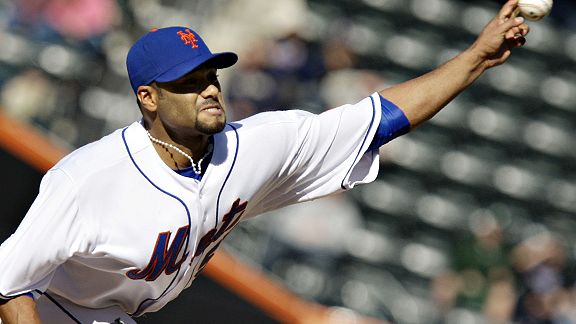 Frank Franklin II/AP
Johan Santana was on the wild side for New York today, but he got the job done.
And so the reversal is fully in motion. The Dodgers get their third consecutive quality start, this time from Hiroki Kuroda. But the offense is shutout for the second straight time, and Los Angeles falls in the first game of their doubleheader today against the Mets, 4-0.
It wasn't a cruise for Mets lefty Johan Santana. He needed 115 pitches to battle through six innings, including a second inning when he walked the bases loaded, but twice used Kuroda as an escape out of a jam and left the game unscored upon.
On one level, Kuroda outpitched Santana, needing only 87 pitches over six innings, but a wild pitch got the first run in for the Mets in the second, and Jason Bay's first homer of the season (in the fourth) brought in the insurance.
I was hoping that with such a low pitch count, Kuroda would stay in the game (and sacrifice) with one out and one on in the top of the seventh, but Joe Torre had Garret Anderson pinch-hit. The  Dodgers didn't score, and rookie Jon Link came on to pitch the bottom of the seventh, allowing the first three men to reach. The Dodgers then brought in Ramon Troncoso; why you would make Troncoso available but not use him to start the inning, I don't know. Anyway, the Mets scored two runs to double the Dodger deficit.
You're never confident against Santana, but you know, you're starting Hiroki Kuroda, and then he's pitching well, Santana looks fallible, and suddenly the game looks completely winnable. But then a different reality blindsides you.
On to Game 2 …
* * *
For your between-game reading (via Baseball Musings): former Dodger minor leaguer Matt White isn't a billionaire after all, but he's still looking good for his post-baseball life, according to this story (which I'm having trouble really originated on the Granite Transformations blog, but that's the only place I could find it).