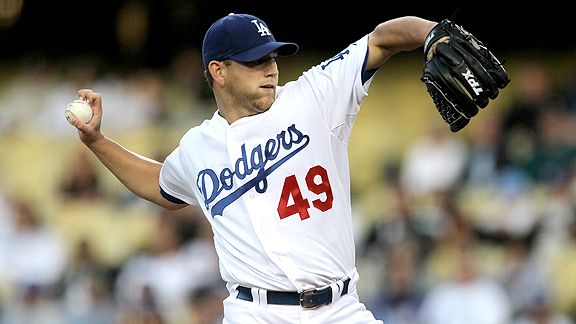 Stephen Dunn/Getty Images
Charlie Haeger couldn't fool anyone tonight with his knuckler.
There's the kind of gruesome that is Joe Theismann's leg getting crushed beneath him by Lawrence Taylor, and then there's the kind of gruesome that was the probable end of Charlie Haeger's Dodger career.
Haeger nearly had more runs allowed (five) than strikes (eight) in his five-batter, no-out start tonight for the Dodgers, who lost, 8-0. The knuckleballer has given up 49 baserunners in 23 1/3 innings for the year with an 8.49 ERA. Even by the sorry standards of the Dodgers' 2010 pitching, that's some gangrene that is going to have to be amputated from the staff.
Ramon Ortiz, Carlos Monaserios, George Sherrill and Jeff Weaver combined for nine innings of three-run relief to keep the game from becoming one for the books, but in doing so left the Dodgers with a need for a Tuesday starting pitcher. John Ely can't be called up that quickly unless a pitcher goes on the disabled list. The other options are pulling someone from the Albuquerque rotation – James McDonald (3.97 ERA), Scott Elbert (7.77 ERA) or Josh Lindblom (5.40 ERA) are currently scheduled for Sunday, Monday and Tuesday – and saving him the upcoming start at Arizona.
Jhoulys Chacin held the Dodgers without a run for 7 1/3 innings and was only really bothered by Andre Ethier, who had three of the six hits Chacin allowed. Ethier raised his batting average to .394 and his on-base percentage to .457.  Chacin has now pitched 15 1/3 scoreless innings to start his season.
Manny Ramirez went 1 for 4 in his first game off the disabled list and ran down the line and in the outfield without trouble.
Shawn Hillegas, the last Dodger starting pitcher to fail to record an out (August 8, 1988), made his major-league debut 365 days earlier and came within one inning of a shutout. It's a game of extremes.