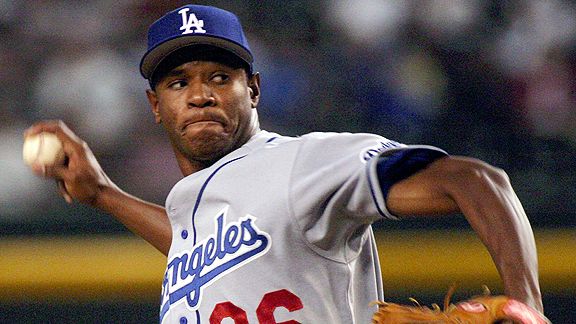 Roy Dabner/AP
Has it really been almost seven years since Edwin Jackson's
thrilling debut against Arizona
?
While the Dodgers were getting worked over by the press for not adding a premium starting pitcher during the 2009-10 offseason, the Arizona Diamondbacks were boldly going out to get 2009 American League All-Star Edwin Jackson (who starts tonight against the Los Angeles) for their rotation — trading, among others, one-time prized prospect Max Scherzer. Here's what I wrote at the time:
My early reaction to the news that the Arizona Diamondbacks had traded away Max Scherzer was, "The Dodgers have the McCourts. What's Arizona's excuse?"

From what I could tell, almost all the thoughts about Tuesday's trade, a three-way endeavor that included Arizona sending Scherzer and Daniel Schlereth to Detroit in exchange for the Tigers' Edwin Jackson and the Yankees' Ian Kennedy, matched mine. Why was Arizona giving up a lower-paid pitcher with a higher ceiling?

I know I'm not alone among Dodger fans in retaining a soft spot for former boy in blue Jackson, who had his best season last year and is still only 26. But I've been hearing for quite some time splendiferous things about Scherzer, who is 25, struck out more than a batter an inning in 2009 with an adjusted ERA of 111 (4.12 ERA) and will make millions less than Jackson in 2010.

If the Dodgers had made this kind of trade — a prized young pitcher sent away for short-term gain — anger would have blasted through the roof and finger-pointing would have zoomed through the hole in the roof that anger had created. It would have been an ugly day, at least on this website. Even though the Dodgers would be taking on more salary for 2010, the trade would have been seen as a short-sighted mortgaging of the future, another sign of a crumbling empire. (A similar scenario: Imagine the Edwin Jackson for Lance Carter-Danys Baez trade happening now.)

Yes, some would have defended the trade, just as some are pointing out that Scherzer might not have the build or mechanics to truly blossom as a starter, or that Kennedy still has rotation potential, or that Jackson should do even better in migrating back to the National League. But considering how negative the overall reaction is toward Arizona making this move, you can only imagine, in the context of the Dodgers' current dysfunction, how harsh things would have been if Los Angeles had done it. …
So how has it all worked out?  As you might expect, not as expected.
Scherzer has a 6.81 ERA in seven starts for Detroit — and that's lower than Jackson's 7.32 mark for Arizona. However, Kennedy, the lesser of the starting pitchers to come in the trade, has a 3.48 ERA despite allowing a National League-high eight home runs. (Among others involved in the trade, Phil Coke and Austin Jackson have also done well for Detroit, while Schlereth is in the minors.  Curtis Granderson is mired in a lousy year, making the Yankees the big loser in the deal to date.)
In September 2003, Jackson made his major-league debut on his 20th birthday against Randy Johnson and won, on a night dimensionally more thrilling than John Ely's besting of Dan Haren Tuesday. Tonight on the same field, he'll be trying again to recapture those good vibes, while the Dodgers, who were held to two runs over six innings the only other time they have faced him (while he had a 7.85 ERA with Tampa Bay at the time), will try again to avoid looking bad for ever letting Jackson go in the first place.
* * *
Two notes from Stat of the Day: 2009 Dodger Will Ohman, who spent most of the year on the disabled list, has a 0.00 ERA after 11 innings with Baltimore (allowing four of 13 inherited runners to score), and No. 8 hitters for the Giants have an Andre Ethier-like 1.194 OPS this season, led by Nate Schierholtz.
* * *
Joined by my colleague Stuart Levine, I'm doing another live chat about all things TV today for Variety at 2:30 p.m. As of this moment, you can click the link and start sending your questions …