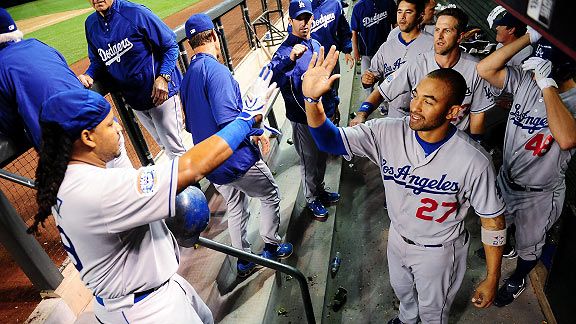 Mark J. Rebilas/US Presswire
Manny Ramirez is congratulated by Matt Kemp during the Dodgers' victory.
"John Ely" is "John Elway" minus "wa," the Japanese term made famous to baseball fans in the U.S. in Robert Whiting's book "You Gotta Have Wa." "Wa" means "group harmony," so I'm told, and I get the sense that a heroic John Ely gave up his "wa" for the good of the Dodgers.
That is my best explanation for how, on a night when Arizona pitcher Dan Haren got all nine outs in the first three innings via strikeout, the Dodgers ended up coming away with a 13-3 slaughter of the Diamondbacks – and how Ely defied the odds and took a shutout into the seventh inning for the second game in a row.
Ely has now faced 48 batters over 12 2/3 innings in his past two starts and allowed only 10 singles – and no walks or extra-base hits – while striking out 13. He has allowed three runs in that period, all of them in the seventh inning. He has been indisputably critical in turning around the season for the Dodgers, who have now won eight of 11 games to move into third place by themselves, 4 1/2 games behind San Diego and three games behind second-place San Francisco.
As for the offense, after weathering Haren's strikeout storm, the Dodgers got three consecutive doubles in the fourth inning to take a 2-0 lead and doubled that margin by the bottom of the seventh, when Ely, Jeff Weaver and George Sherrill combined to allow three runs and make it a tight game again. (Ramon Ortiz was called into get the final out of the seventh inning, throwing four pitches and raising questions about whether this will impact his scheduled start Friday.)
Just when nervous time seemed to be approaching, Jamey Carroll and pinch-hitter Garret Anderson singled before Russell Martin hit a three-run homer to give the Dodgers breathing room in the top of the eighth, an inning that ended up with Los Angeles sending 12 men to the plate and scoring seven runs. Two more tallies came across in the ninth, while Carlos Monasterios (lowering his ERA to 2.18) retired all six batters he faced to wrap things up.
The Dodgers had 23 baserunners in all. James Loney had two doubles and two singles, Manny Ramirez two walks and two singles, Martin a single and hit-by-pitch to go with his homer, and Andre Ethier two doubles. Ramirez's on-base percentage is now at .507 for the season, Ethier's league-leading OPS is at 1.175, and thanks in no small part to Ely, the Dodgers are looking like a real team again.