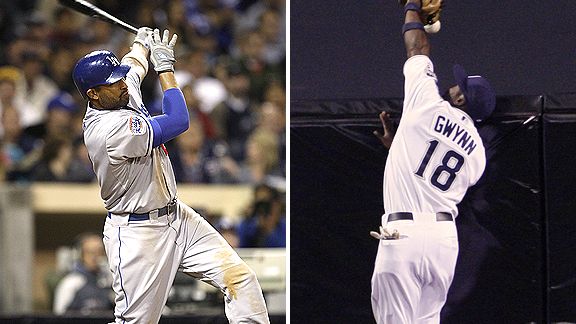 Lenny Ignelzi/AP
Matt Kemp took Tony Gwynn, Jr. to the wall, and we all held our breath …
With Jon Garland matching Ramon Ortiz in allowing baserunner after baserunner – and with both offenses failing to take advantage – the early innings of tonight's Dodgers-Padres game in San Diego had a sluggish, Spring Training feel. But somewhere along the way, a switch flipped, and a nearly random game in May took on the illusion of a true pennant-drive contest between two teams desperate to win.
And so, as the Dodgers trailed 3-2 in the seventh inning with Russell Martin on second base, when Matt Kemp lofted an enormous fly ball to dead center field, and Tony Gwynn, Jr. leaped a good two feet over the wall, and the ball disappeared momentarily in the blur of his glove … only for Gwynn to slam the wall in anger after the ball had somehow gotten through and to the other side, the Dodger season ascended into a moment of September-caliber drama. The Dodger bullpen then made Kemp's two-run homer hold up, giving Los Angeles a 4-3 victory, its fifth victory in a row and 10th out of the past 13, cutting the Padres lead to four games in the National League West.
"That's probably the hardest ball I've hit in a little while," Kemp told Prime Ticket after the game. "If he had caught it, I probably would have had some words for him in batting practice tomorrow."
The drama came five innings after what was probably the Dodgers' offensive lowpoint this season, when they loaded the bases with one out in the second inning, down 1-0, but came away empty after Ortiz bunted feebly into an easy 1-2-3 double play. ("I still don't understand it, trying to bunt with the bases loaded," Dodger manager Joe Torre told reporters after the game.)  In the next inning, the top of the Dodger order slammed four straight singles off Garland, but settled for one run to tie the game.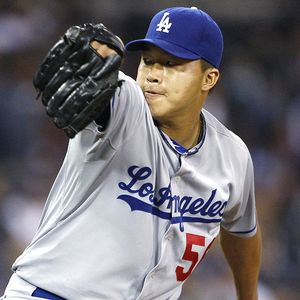 Lenny Ignelzi/AP
After fastballs on seven of his previous eight pitches, Hong-Chih Kuo struck out Padres slugger Adrian Gonzalez on a slider.
Ortiz gave up a first-inning homer to Adrian Gonzalez (who is 6 for 9 with two walks and two homers against Ortiz in his career) and nine baserunners in all out of 20 batters faced, but for all his problems wasn't really outpitched by Garland, whose ERA is more than three runs lower. Both were often in trouble; both managed to avoid the big inning. (Garland caught a break, in a manner of speaking, when a fifth-inning blast by Andre Ethier hit high off the wall and ended up being only an RBI double instead of his 12th home run of the year.)
The spirit of the night turned serious when, after Ethier's double made the score 2-2, Torre finally got Ortiz out of the game after allowing a walk and a single to lead off the bottom of the fifth and, as I predicted, began playing with his entire bullpen to get through the game. George Sherrill, Jeff Weaver and Ronald Belisario each faced three batters before Hong-Chih Kuo came in with the tying run on base. In a nine-pitch encounter, Kuo struck out Gonzalez – another edge-of-your-seats moment – then went on to complete the eighth inning in his longest shutout outing since September 7, 2008.
"Kuo was huge. Kuo was huge," said Torre, who earlier had praise for Kemp. "I guess I wasn't disappointed that DeWitt got (caught in an eighth-inning rundown), because that would have forced me to pinch-hit."
Jonathan Broxton didn't mess around in the ninth, retiring the side on 12 pitches to close things out. After Ortiz, Dodger relievers retired 15 of 17 batters.
"We were able to pitch great out of the bullpen, and that was the difference tonight," Torre said.