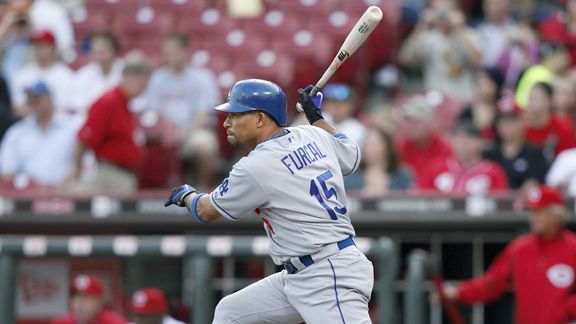 Joe Robbins/Getty Images
Rafael Furcal
Rafael Furcal was expected to be activated from the disabled list for tonight's game, but the Dodgers just announced (via Twitter) a starting lineup with Jamey Carroll at shortstop again. Details to come.
Update: Tony Jackson of ESPNLosAngeles.com has the latest on Furcal:
… "I don't know," Furcal said when asked when would be activated. "They have to see. I just have to keep working on it and see when it gets better."

Furcal played six innings defensively in each of two minor-league rehabilitation games with high Single-A Inland Empire on Tuesday and Wednesday.

"I felt it a little bit when I was playing there," he said. "But afterward, I felt it a little bit more."

Furcal said if it were his choice, he would have come off the DL and play despite the lingering discomfort. At the same time, though, he didn't question the decision of the team's medical staff to keep him sidelined a little longer. …
* * *
Ramon Ortiz starts for the Dodgers, with a full compliment of seven relievers behind him, thanks to Thursday's day off. I don't know if the Dodgers did this intentionally, but given the fact that the team was going to need a No. 5 starter at some point in the next five days, it makes sense to start your worst pitcher on the day your bullpen is completely rested.