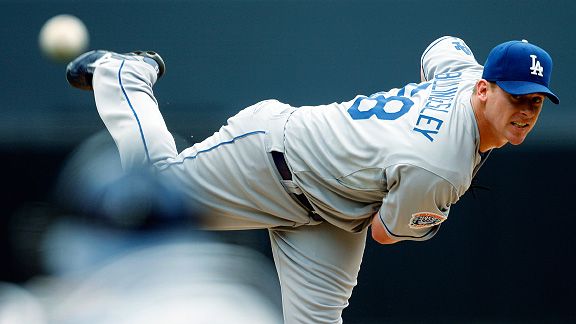 Lenny Ignelzi/AP
Chad Billingsley
It wasn't just that San Diego was the site of Chad Billingsley's last foray into the latter third of a baseball game. It's that the last time it happened, on July 5, Jonathan Broxton had the ignominy of helping Billingsley's 6-1 ninth-inning lead get away.
But on a day – just like a week ago against Colorado – when the Dodgers needed their pitching staff to keep runs off the board, Billingsley, Broxton and Hong-Chih Kuo came through, shutting out San Diego, 1-0.
Padres starter Wade LeBlanc (1.54 ERA) held Los Angeles hitless for 5 1/3 innings before Russell Martin singled home Jamey Carroll (who had walked for the second time) with the only run of the two-hour, 18-minute game. Despite only one other hit from a Dodger lineup that was missing Andre Ethier, Manny Ramirez, Casey Blake, Blake DeWitt and Rafael Furcal, the pitching made it stand up.
Billingsley was replaced with no runners on base after 7 1/3 innings in which he allowed four hits, one walk and one hit batter while striking out six – all in 95 pitches. Kuo and Broxton retired all five batters they faced, as Dodgers pitchers faced the minimum number of Padres over the final five innings (thanks in part to two double plays in back of Billingsley).
In his past five starts, Billingsley has now gone 30 1/3 innings with a 2.67 ERA and 25 strikeouts, while allowing 38 baserunners (one home run).
After his first inning homer off Ramon Ortiz on Friday, Padres slugger Adrian Gonzalez was retired in 12 straight at-bats by Los Angeles.
The Dodgers have won seven straight games and 12 of their past 15 to move within two games of first place in the National League West. Four of the five NL West teams are now over .500.