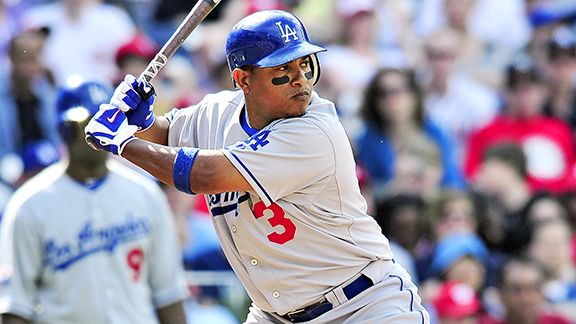 Ed Wolfstein/Icon SMI
Ronnie Belliard has an .872 OPS in 12 starts this season. The Dodgers are 5-7 when he is in the starting lineup.
Until further notice — hopefully days but possibly weeks — the Dodgers will be playing without two starting position players, Andre Ethier and Rafael Furcal. It's the second time this season this has happened: Furcal and Manny Ramirez were both on the sidelines from April 27 through May 7.
Those injuries, combined with scheduled rest for older players and the semi-platooning of Blake DeWitt, have meant there have been 11 games this year in which the Dodgers have started at least three reserves. The Dodgers are 4-7 in those games, averaging 3.5 runs per game.
Los Angeles is 16-10 when it has at least six regulars starting.
Oddly, in games with four or more reserves starting, the Dodgers are 2-2, but in games with three reserves starting, the Dodgers are 2-5.
Sunday's 1-0 victory over San Diego was the first time since in nearly three weeks that Joe Torre rested more than one healthy player in the same game. The Dodgers are 3-4 when they rest more than one healthy player (again, keeping in mind that some of these decisions involve a platoon situation).