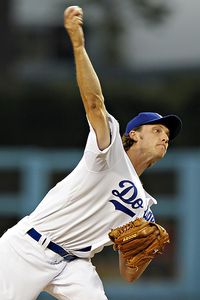 Alex Gallardo/AP
John Ely: 24 strikeouts since his last walk.
Well, the infamous eighth inning came, and once again John Ely couldn't get past it.
I kid, of course. I kid, because I love. Love love love.
The 24-year-old rookie has now faced 84 consecutive batters without walking one – by far the longest active streak in the majors – and more importantly, pitched well enough Monday to lead the Dodgers to their eighth consecutive victory, 4-2 over Houston.
Need someone to tell you what facing Ely is like? Try asking the Astros' best hitter, Lance Berkman. In the top of the fourth, Berkman worked the count to 3-2 (only the second three-ball count for Ely to that point). Undaunted, Ely offered a tantalizing 76-mph changeup that drew Berkman into swinging early, and he was done. His next time up, with the count 2-2, Ely froze Berkman on an 89-mph fastball.
It's not about the speed. It's about the fact that Ely has become a puppetmaster out there.
He struck out a career-high eight in his career-high seven innings – his longest outing ever complemented by his lowest pitch count ever, 97. Allowing two runs, he lowered his season ERA to 3.51 while raising his strikeout total to 25 in 25 2/3 innings, against 25 baserunners.
Not only has Ely not walked anyone in his past 23 innings, he hasn't allowed an extra-base hit in his past 23 innings.
Eric Stephen of True Blue L.A. tweeted that Ely is the first pitcher since Ross Grimsley 1971 to have three starts of at least six innings with no walks out of the first four in his career.
Remarkable.
Ely actually allowed a first-inning run, but the Dodgers came back with three in the bottom of the first off Wandy Rodriguez, aided by a close call at second base that could have been a forceout but instead loaded the bases. James Loney followed with a sacrifice fly to tie the game, and then slumping Casey Blake rapped a shallow double just inside the first-base line to score two more runs (including Matt Kemp, who saw the opportunity in front of him instead of third-base coach Larry Bowa's stop sign).
Blake DeWitt had two triples to right field tonight (besting Hunter Pence, who was shading him toward center), scoring once to give the Dodgers a 4-1 lead in the fourth, then driving in two with the other to boost the Dodgers' lead in the eighth to 6-2. It was the 19th time that a Los Angeles Dodger has tripled twice in a game. (I'm sure everyone remembers Eric Anthony matching the feat in a Dodger uniform.)
With Jonathan Broxton taking the night off, Jeff Weaver, George Sherrill and Ramon Troncoso combined for two shutout innings of relief, giving the Dodger bullpen a 0.90 ERA over 20 innings during the winning streak.
Ely, who went out for a pinch-hitter with the Dodgers leading 4-2 in the bottom of the seventh, will continue to be tested, by teams much more challenging than the 2010 Houston Astros, but so far in this riotous world, he's been like a dose of nature sounds. He's been as respendently good as Takashi Saito in his first season as a Dodger – only he does it for six innings or more at a time.
"He hasn't had a bad outing," Dodger manager Joe Torre said on Prime Ticket after the game. "The first one, the numbers didn't look very very good, but I thought he competed very well. Tonight, he looked terrific."
Said Ely: "I'm just going out there with the same game plan – trying to throw strikes and keep the ball down."
The kid must be on cloud nine.
Update San Diego defeated San Francisco, which means that the Dodgers remain two games out of first place in the National League West but move within half a game of the second-place Giants.
Update 2: Memories of Kevin Malone is among the sites tracking the best of Twitter-based Elymania.