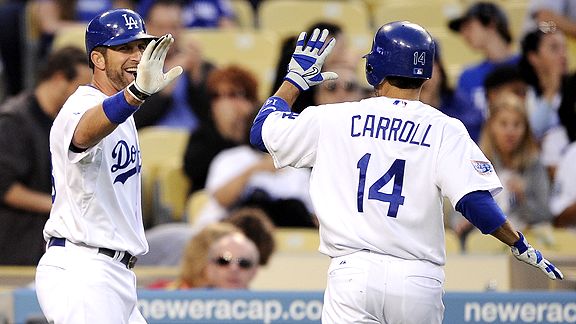 Mark J. Terrill/AP
Casey Blake and Jamey Carroll congratulate each other after Carroll's sacrifice fly in the second inning tonight.
Just two seasons ago, Rafael Furcal went down with an injury, and the Dodgers were saddled with Angel Berroa as their primary shortstop – which wasn't very pretty.
However, with Furcal out for more than half of the 2010 season to date, the Dodgers have been much more fortunate. Jamey Carroll, whose signing I've questioned, has at least for now more than shown his value.  The 36-year-old Carroll had two more hits and two RBI in tonight's 4-1 Dodger victory, raising his season on-base percentage to .391.  He has only three extra-base hits in 115 plate appearances, so he's hardly an unqualified success. But still, his consistent OBP has given the Dodgers a threat at the bottom of the order, and that combined with his steady if rangeless defense has given Dodger fans one less thing to fret over in this down-and-up season.
Carroll, amusingly, also had his career-high fourth sacrifice fly tonight – not long ago, I made a point in the Dodger Thoughts comments about how rare it was for him to hit sacrifice flies, and since then he's gone on a sac fly tear, with all four in the past 16 days.
In fact, three of the four Dodger runs in support of Clayton Kershaw came in without the benefit of a hit: scoring fly balls by Carroll and Anderson, and a wild pitch by Kevin Correia. Kershaw had his usual first-inning walk but delivered his sixth quality start of his past seven, going 7 1/3 innings and allowing seven hits and two walks while striking out seven. Kershaw has pitched at least seven innings in three straight games for the first time in his career, and lowered his season ERA to 3.23.
With two out in the top of the ninth, Jonathan Broxton faced nemesis Matt Stairs with a chance to close out the game. Broxton sent him fishin' on four pitches, and the Dodgers won their 10th game in their past 11 to move back within a game of first place, leapfrogging San Francisco in the process.