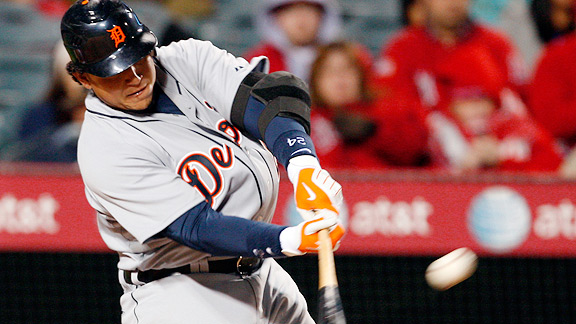 Christine Cotter/AP
Miguel Cabrera is slugging at a career-best .603 rate.
It's always a test when the Dodgers face an American League team. That won't change tonight, though it's an uneven Detroit Tigers team the Dodgers will face.
Five members of the Detroit offense are hitting the ball very hard. Miguel Cabrera (1.030 OPS/175 OPS+) is moidering the ball, while Brennan Boesch (.987/161), Magglio Ordonez (.878/137), Johnny Damon (.840/127), and Austin Jackson (.825/122) are no slouches. Carlos Guillen (.834/125) is on the disabled list.
The Tiger offense is weak at catcher (Gerald Laird/Alex Avila), third base (Brandon Inge), shortstop (Adam Everett/Ramon Santiago) and second base (starter Scott Sizemore was demoted to the minors last weekend). Because its outfielder/first base/DH types don't play those other positions, it looks as though the Tigers are stuck with four great bats and four lesser ones when they take the field tonight.
Rain on Monday pushed Tigers ace Justin Verlander's most recent start ahead a day and his next one to next week, meaning the Dodgers will avoid him. Verlander has been the only above-average pitcher in the Tiger starting rotation this season. Tonight, the Dodgers get the enigmatic Dontrelle Willis (4.68 ERA), who pitched six shutout innings against Minnesota April 29 but has allowed seven runs in his past 8 2/3 innings (over two starts).
Detroit has won seven of its past 10, while the Dodgers have won 10 of their past 11.
* * *
Update: Joe Sheehan writes for SI.com on how interleague play affects the National League West: "The Dodgers' interleague schedule is brutal. As always they play the Angels twice, plus they see the Red Sox, Yankees and Tigers. Only the last-place Diamondbacks also get the Red Sox and Yankees. The Padres and Giants get both the Jays and Orioles, while playing just one of the top three AL East teams each. That's a huge schedule edge, especially for the Padres, who get six games against the Mariners to boot."