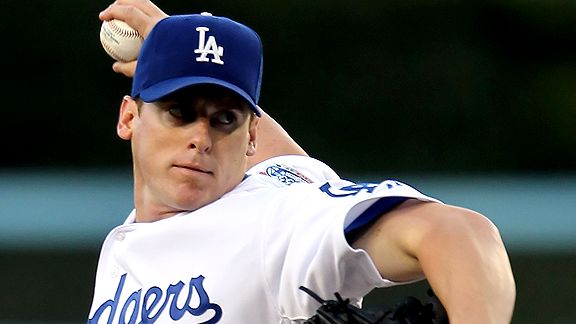 Jeff Gross/Getty Images
Chad Billingsley has allowed two runs or less in six of nine starts this season.
Boy, how rewarding is it to see Chad Billingsley be on such a roll. And of course, how rewarding must it feel for him.
Oh – and I suppose the Dodgers are enjoying being in first place, too.
Billingsley continued his roll in pitching the Dodgers to a 4-1 interleague victory over Detroit tonight, the team's 11th win in their past 12 games. With San Diego and San Francisco both getting pummeled tonight, the Dodgers were poised to find themselves atop the National League West (tied with the Padres but ahead in head-to-head competition), a mere 13 days after their 8-0 loss to Colorado had them six games off the pace and in last place.
Billingsley threw 105 pitches over seven innings, allowing two singles, two doubles and two walks while striking out five. (Both doubles were arguably catchable balls that Manny Ramirez couldn't haul in.) Billingsley now has a 3.66 ERA on the season, 2.39 in his past six starts covering 37 2/3 innings.
His toughest challenge came right at the start, when Tigers leadoff hitter Austin Jackson doubled at the end of a 10-pitch at-bat. Jackson came around to score on two productive outs, and that was it for Detroit. Twice they got runners on first and second with two out, in the third and fourth innings, but Billingsley got the next batter each time. He retired 10 of the last 11 batters he faced in the game.
In contrast, Dontrelle Willis had allowed only one hit and no walks among the first 12 batters he faced, but was in trouble the rest of the way and didn't make it through six innings. The first jam for Willis began with two out in the bottom of the fourth, when he gave up a single and two walks before hitting Nick Green with a bases-loaded pitch that tied the game.
The next batter, A.J. Ellis, making his first start since April 27, hit the ball on a line but right to second baseman Danny Worth for the third out. But in the fifth, Willis gave up two more runs, and then Ellis got his revenge in the sixth with an RBI single. (Ellis got robbed of two more RBI in the eighth – potential insurance runs – when his liner to right was speared by Miguel Cabrera.)
Reed Johnson had a perfect night for the Dodgers with a walk, a single and two doubles, and Jonathan Broxton struck out the side on 14 pitches for the save.
* * *
James McDonald allowed four runs over seven innings tonight in Albuquerque's 10-4 victory over Las Vegas. He gave up nine hits and no walks while striking out eight. Las Vegas scored two in the fifth and two in the sixth.
Chin Lung Hu went 2 for 4 with his first homer of the season, and is now OPSing .815 in May after a terrible April.
* * *
The Dodgers will skip the No. 5 slot in their rotation and start Clayton Kershaw in Chicago on Tuesday, reports Ken Gurnick of MLB.com. The Dodgers will next need a fifth starter May 29 in unfriendly Colorado.