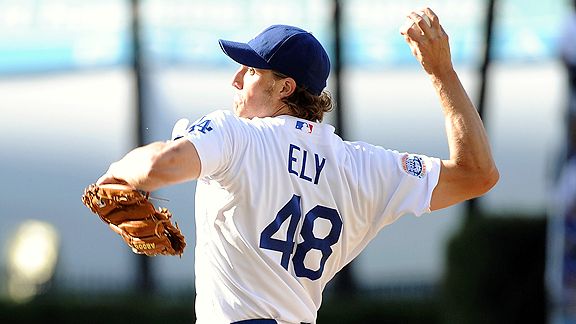 Harry How/Getty Images
John Ely allowed five baserunners in his final five innings today.
Like the space shuttle in its glory days, John Ely came back to Earth in the first inning today – then took off again for the skies.
Ely gave up three hits and his first base on balls after 89 walkless batters to let Detroit score two runs in the top of the first, but like Chad Billingsley the night before, put up only zeroes after that, and the Dodgers rode out a 6-4 victory over the Tigers.
The Dodgers steadily worked Tigers starter Armando Gallaraga and knocked him out in the fifth inning. Casey Blake (11 for 23 with three homers and a walk on the homestand) had a homer and two singles, Matt Kemp had a homer and a double, Blake DeWitt's third triple of the homestand drove in two runs, and Xavier Paul and James Loney added two hits each. (Paul also walked.) Russell Martin walked in the first inning but went 0 for 3, ending his 15-game hitting streak but extending his on-base streak to 17.
Ely went six innings plus one batter, allowing eight hits and the one walk while striking out three and lowering his ERA to 3.41. Joe Torre had a quick hook for Ely, who had thrown only 83 pitches when he came out of the game following a leadoff single in the seventh by Austin Jackson, and the main men of the Dodger bullpen made the move seem even more questionable by delivering one of their roughest collective outings in some time.
Hong-Chih Kuo, who warmed up Friday but didn't pitch, first gave the Tigers a look at the game by walking Magglio Ordonez after Ramon Santiago reached on Blake's two-out error. But with the bases loaded, Kuo made a nice play on Detroit cleanup hitter Miguel Cabrera's slow grounder to no man's land between the pitcher's mound and the foul line, fielding and firing to James Loney for the third out.
In the next inning, Ramon Troncoso, who allowed three runs without getting an out Wednesday in his third consecutive night of work, came back after two days off and gave up a solo homer to Santa Monica native Brennan Boesch. Troncoso followed by walking Brandon Inge, getting a double-play grounder from Gerald Laird and then beaning Austin Jackson (don't expect him in the starting lineup Sunday). Jeff Weaver came in to bail Troncoso out by inducing Ryan Raburn to fly out to end the eighth.
Jonathan Broxton, pitching in his third consecutive ninth inning, allowed leadoff singles to Johnny Damon and Ramon Santiago. Alex Avila struck out, and Blake made a diving stop of a Cabrera grounder to create a force out at second base. Boesch ripped a first-pitch liner to right for a ground-rule double that brought the Tigers within two runs and put the tying runs at second base.
But after falling behind 2-1 to Inge, Broxton got a swinging strike on a 97-mph fastball, then a called third strike to end the game.
Twelve wins in 13 games for the Dodgers, who moved a half-game ahead of San Diego in the National League West pending the outcome of the Padres' game at Seattle tonight. The Dodgers will try to keep it going Sunday behind Hiroki Kuroda, though it's doubtful they'll have Broxton or Kuo available. But those worries can wait, as the Dodgers celebrate another successful flight of Spaceship John Ely.