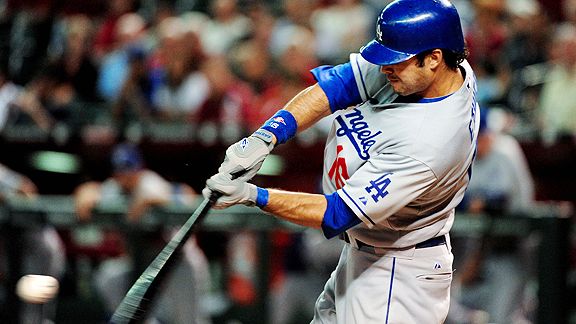 Matt Kartozian/US Presswire
Andre Ethier has fallen out of the National League home run lead while on the disabled list.
Tony Jackson of ESPNLosAngeles.com writes that Dodger trainer Stan Conte asked his Lakers counterpart Gary Vitti for guidance about Andre Ethier's pinkie fracture, and Vitti recommended a special splint that appears to have accelerated Ethier's timetable for returning to the playing field.
… Conte put in a call to Vitti because he knew some of the Lakers players had dealt with similar injuries.

"This was the day before their playoff game," Conte said. "But he called right back and couldn't have been nicer."

Vitti recommended a special splint that immobilizes the first knuckle but leaves the second knuckle flexible. What that does is allow Ethier to swing a bat more-or-less unfettered, which he has been doing in the indoor batting cages. Conte said Ethier already has progressed from hitting off a tee to hitting soft-toss pitches and even catching a ball because the split also allows him to squeeze his glove.

The knuckle that is broken has to be immobilized in order to heal. However, because of the splint, that knuckle can be immobilized without immobilizing the entire finger. That means the fracture doesn't have to heal completely in order for Ethier to get back on the field. Conte said that when Ethier does return, he will play while wearing the splint, which he will wear constantly until the fracture heals.

This is a major step forward that conceivably could allow Ethier to return from the disabled list as soon as he becomes eligible to do so May 30 at Colorado. And while Conte wouldn't go so far as to predict that, he did concede that the process is moving much more quickly than it would have without the splint.
* * *
Dodger starters have allowed three home runs in their past 99 2/3 innings, notes David Pinto of Baseball Musings. John Ely hasn't allowed a homer in 31 2/3 innings, and Clayton Kershaw hasn't given one up in 22 1/3 innings since May 4.
Blue Heaven posts a vintage snapshot of a young Bill Russell.
Not sure I'll be in front of the computer if activation news about Rafael Furcal comes later this morning, but despite the reports of the past 24 hours that Blake DeWitt might be sent down to make room, I find that almost impossible to believe. You don't send down the starting second baseman in order to keep a guy like Nick Green at the back of your bench.