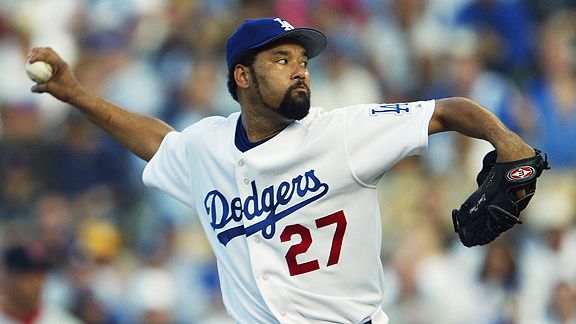 Jeff Gross/Getty Images
Jose Lima at the start of a memorable night: October 9, 2004.
Shocking news: Former Dodger Jose Lima has passed away from a heart attack at the age of 37, according to his wife. The news was first reported by ESPNdeportes.com (link via Bob Timmermann).
Lima was a 1999 All-Star with Houston and enjoyed one of his most magical seasons with the 2004 Dodgers, for whom he had a 4.07 ERA and delivered a shutout in the National League Division Series, the Dodgers' first playoff win in 16 years. His "Lima Time" enthusiasm for the game won't be forgotten.
From Dodger Thoughts, October 9, 2004: "Prima Lima – He's a Dreama"