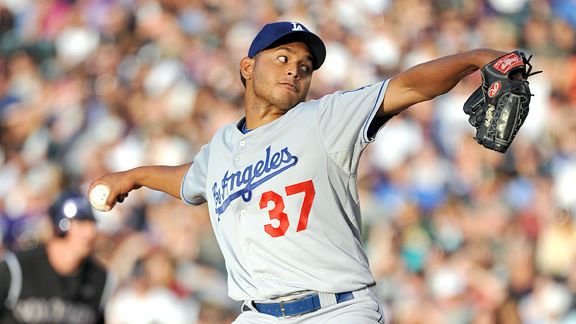 Garrett W. Ellwood/Getty Images
Carlos Monasterios
Dodgers 5, Rockies 4. Monasterios (W, 2-0). Did you see that coming when the sun was going down?
The irony of Joe Torre's apparent determination to get Charlie Haeger back into the Dodger starting rotation is that Torre couldn't wait to get him out of the rotation last summer, when Haeger was pitching better. In any case, Carlos Monasterios' 1.90 ERA entering tonight's game, at least in the moment, wasn't enough for Torre to take a "let's see what happens" stance regarding whether Monasterios would make another start.
And it was fine to be a bit wary of how Monasterios would come out of tonight's game at Colorado – it still featured someone who was in A ball last year pitching in an notoriously difficult environment. But lo and behold, Monasterios was efficient and effective: 67 pitches and two earned runs over five innings.
After the first inning, in which he gave up two unearned runs (they came two outs after Ronnie Belliard's error at first base), Monasterios allowed only three baserunners. Two came in the fourth inning – a Miguel Olivo triple (followed by an Ian Stewart sacrifice fly) and a Clint Barmes homer that was contested in vain after a fan reached out to catch it. That put the Dodgers down, 4-0. Monasterios then retired the side in his fifth and final inning. Maybe I'm rooting too hard, but I'm having trouble putting this down as a poor effort.
Monasterios isn't long for the Dodger rotation no matter what, but in the short term, with this game under his belt and a 2.20 ERA in 28 2/3 innings, it's hard for me to see how he hasn't earned the opportunity to start again Wednesday against Arizona at Dodger Stadium. He has six unintentional walks all year, he had 15 first-pitch strikes against 22 batters in Colorado – isn't this the kind of John Ely-like boldness that the Dodgers are looking for, at least until Vicente Padilla comes back? I'm not assuming that Haeger hasn't solved his problems and can't do the job. It's just that again, I'm wondering what has tilted the scales toward Haeger and away from Monasterios in Torre's eyes. And I'm wondering if those scales might tilt back, as they did with Ely.
Anyway, this all appeared it would be an academic discussion to occupy us after a Dodger beating, what with Jeff Francis taking a one-hitter into the fifth inning, having faced the minimum 12 batters. Matt Kemp began the fifth with his 10th homer of the season, but that was seemingly the result of a pitcher with a lead just throwing the ball across the plate – Francis retired the next three batters.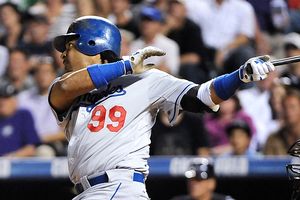 Jack Dempsey/AP
Manny Ramirez hit his first home run since his pinch-hit game-winner April 18.
But the Dodgers shredded Francis' exquisite origami in the sixth, tearing a small opening with a Jamey Carroll leadoff walk and then busting through with a Garret Anderson pinch-hit double, a Rafael Furcal sacrifice fly to score Carroll, a Russell Martin double to score Anderson, and then, Manny Ramirez's first home run in his past 58 at-bats and first career homer at Coors Field period. Suddenly, the Dodgers were ahead, and Monasterios was poised to be the winning pitcher.
From that point on, the rested Dodger bullpen took control of the game (a fine thing, since none of the final nine Dodger batters reached base). In the final four innings, Ramon Troncoso, Hong-Chih Kuo, Ronald Belisario and Jonathan Broxton faced 16 batters and struck out eight – two apiece. Troncoso pitched a perfect sixth, Kuo got out of a two-on, two-out jam in the seventh and Belisario pitched a perfect eighth.
In the ninth, Broxton who had walked two of 77 batters this season and hit none, plunked leadoff pinch-hitter Jason Giambi, who was replaced by pinch-runner Dexter Fowler. Broxton struck out Barmes, but Melvin Mora hit a fly down the line in right that Xavier Paul made a nice play to catch for the second out, only for Fowler to tag up and take the tying run to second base. The Dodgers then chose to walk Carlos Gonzalez intentionally even though he was the winning run, preferring to have Broxton face Ryan Spilborghs – who had singled twice and homered in five career chances against Broxton. But after working the count to 2-2, Spilborghs couldn't catch Broxton's 97-mph fastball and went down swinging.
Monasterios (W, 2-0). That's right.
Having not only survived this game to even their record on the road trip at 2-2 and move within one game of first-place San Diego in the National League West – the Padres entered the bottom of the ninth trailing Washington, 5-2, and got four straight singles for a run before striking out twice and grounding out – the Dodgers get to come back with Hiroki Kuroda and Clayton Kershaw for the next two games of the series. Beyond that, Andre Ethier singled and walked twice in four incident-free plate appearances in his first rehab game, keeping him on track to return to the Dodgers Memorial Day in Los Angeles. The Dodgers are 9-4 without Ethier, but don't think they don't want him back.
Update: From Tony Jackson of ESPNLosAngeles.com:
Although Torre had given a strong indication before the game that knuckleballer Charlie Haeger will come off the disabled list in time to reclaim the fifth spot in the rotation the next time it comes up either Tuesday or Wednesday, Torre at least paid lip service after the game to the possibility Monasterios pitched well enough to warrant another shot.

"I don't think we have figured it out yet," Torre said. "But I certainly wouldn't be afraid to do that. He enhanced his chances if we were going to consider it."