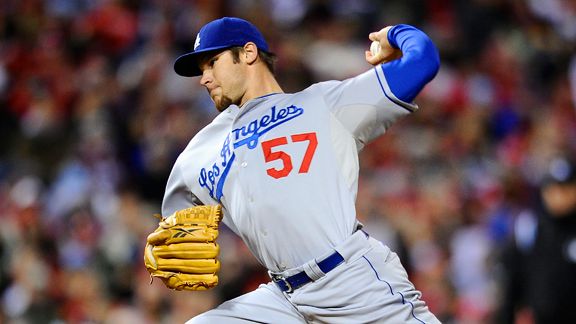 Jeff Zelevansky/Getty Images
Scott Elbert's
final 12 appearances
in the 2009 regular season for the Dodgers were for no more than one inning each.
Scott Elbert, discussed here Wednesday, was called up to take a bullpen slot for at least the time being. Confirmation on who will vacate the roster to make room for Elbert is to come.
Joe Torre can be aggressive with the bullpen in support of Carlos Monasterios' second start and first in Colorado. The Dodger bullpen only threw five pitches Thursday (Jeff Weaver) and has thrown only 89 pitches in four days since Sunday. The shaky and oft-used Ramon Troncoso has thrown only 13 pitches since Saturday. Bottom line: Nine innings, eight pitchers.
The Dodger press notes said that Cory Wade, who turned 27 today, has begun to throw on flat ground in the latest step of his rehabilitation.
Update: Nick Green has been designated for assignment, the Dodgers announced 45 minutes before gametime.