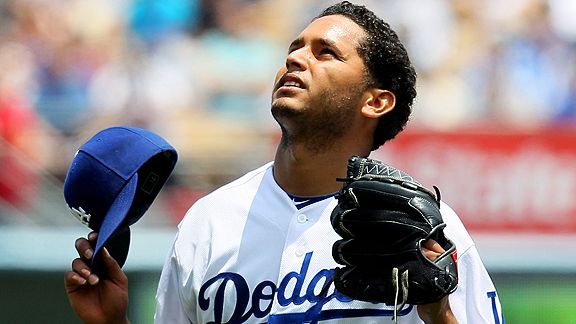 Jeff Gross/Getty Images
Carlos Monasterios looks towards the sky in the second inning, as if he knew how long this day would be for the Dodgers.
It was — or should have been — Edwin Jackson's game.
Instead, it was … Garret Anderson's?
The maligned Dodger reserve, with 12 hits in 82 at-bats this year, singled home Matt Kemp in the bottom of the 14th inning to give the Dodgers their second-straight 1-0, extra-inning victory over Arizona — capping a series in which the Diamondbacks were held scoreless for their final 31 innings.
The Dodgers, whose scoreless pitching streak is their longest since a 37-inning skein July 24-28, 1991, according to the Dodger press notes, entered this series with a 4.21 team ERA, and left it at 3.99. It was the first time two MLB teams had gone scoreless into extra innings in consecutive games since 2001, and the first time for the Dodger franchise since 1919. The Dodgers also have three consecutive walkoff wins for the first time since August 5-7, 1982.
We'll talk about the Dodger offense another time, but for now we'll tip our hat once more to Arizona's starting pitcher. More than six years after Jackson's memorable Dodger debut against the Diamondbacks, nearly five years after his last appearance at Dodger Stadium, Jackson returned and put on a show. It was against a lineup that missed Manny Ramirez, Russell Martin, and Rafael Furcal (and for half the game, Casey Blake), but it was a show nonetheless. Jackson pitched shutout ball for nine innings, allowing three hits and three walks while striking out six.
But Jackson didn't get the win — and neither did Arizona, which was held scoreless by six Dodger pitchers, the last Travis Schlichting, who pitched four shutout innings in his 2010 Dodger debut despite not having thrown that many in a game all year in the minors.
The tone was set early by Jackson and Carlos Monasterios, who, like John Ely, has had to fight a lot of natural-born skepticism to get into the starting rotation. But with five shutout innings today, Monasterios lowered his 2010 ERA to 1.87 and threatened to give birth to Monahysteria. He allowed two singles, walked none and struck out three. He was also, like Ely, reasonably efficient with his pitch count — except for a rather bizarre stretch in the fifth inning when Adam LaRoche and Rusty Ryal combined to foul off 11 of 13 pitches. Monasterios also had to battle several three-ball counts in the second inning, but still got his five innings completed in 81 pitches.
After Ramon Troncoso, now being rationed by Joe Torre, was used for one shutout inning, it fell to recent callup Justin Miller to keep Arizona at bay. Miller immediately tattooed Arizona by hitting Stephen Drew and LaRoche with pitches, but in between came a strikeout and throwout by A.J. Ellis of Drew attempting to steal, to interrupt the scoring bid. Ryal then flied deep to Kemp in center field to end the inning.
Jackson then became the second Arizona starting pitcher in as many games to bat for himself in the eighth inning of a scoreless game — and worked Miller with an 11-pitch single. But on his 41st pitch of the game, Miller got Kelly Johnson to fly to Kemp.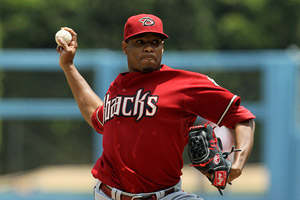 Jeff Gross/Getty Images
Arizona's offense denied Edwin Jackson his second career shutout.
In the bottom of the eighth, Jackson once again faced Manny Ramirez with a runner on first and the game on the line, as he did May 12 in Arizona. But instead of hitting a home run, Ramirez was called out on strikes — the third consecutive game Ramirez failed to bring home the go-ahead run in the eighth inning.
After Jonathan Broxton pitched a scoreless top of the ninth, the valiant Jackson went back to the mound. He was one strike from completing his ninth shutout inning when he gave up a line single to Jamey Carroll, who had the only three hits Jackson allowed, along with a walk. Kemp then walked on a 3-2 slider, leaving it up to Andre Ethier. In a situation seemingly scripted in the Dodgers' favor, Hollywood rejected it, with Ethier lining out to LaRoche at first base on Jackson's 123rd pitch.
Ronald Belisario's scoreless 10th inning fed into James Loney's double to start off the bottom of the 10th, the only extra-base hit in the 101 combined plate appearances by the two teams today. Ronnie Belliard walked after Anderson struck out, but pinch-hitters Furcal and Martin couldn't bring the run home.
From that point on, you could say the Dodgers' otherwise significant bullpen advantage was starting to bleed out, especially with Hong-Chih Kuo unavailable because he threw 1 1/3 innings Tuesday and Torre also wanting to give a day off to Jeff Weaver, who threw 21 pitches Tuesday night.
That left Schlichting, with two career major-league games, the last nearly a year ago, and a history of injury issues. Schlichting pitched a perfect 11th inning, survived two singles in the 12th and then completed a 1-2-3 13th. All the while, the Dodger offense remained silent.
But that wasn't all. Schlichting, whose longest minor-league outing of the year was 3 2/3 innings, batted for himself in the bottom of the 13th and stayed in to pitch the 14th. He gave up a hit and a walk with one out, but escaped on two fly balls to cap his 60-pitch effort.
Finally, in the bottom of the 14th, Kemp ended an 0-for-14 drought by the Dodger outfielders with a single. Ethier lined out for the third time in his hard-luck 0-for-6 day, but Kemp advanced to second base on a wild pitch, went to third on a Loney grounder and then, unbelievably or mercifully, scored on Anderson's hit.
With three walkoff victories, this was a series the Dodgers won't soon forget — but Arizona will sure try its best.