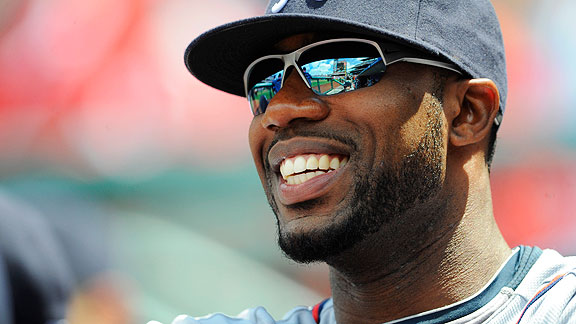 Howard Smith/US Presswire
Jason Heyward
A Rookie of the Year campaign for John Ely becomes less far-fetched by the day — heck, the guy has practically been Cy Young (if not Ubaldo Jimenez) in every appearance since his first, with a 1.80 ERA. But then there is the matter of one Jason Heyward.
Heyward, who doesn't turn 21 until August, has a .410 on-base percentage, .567 slugging percentage and 160 adjusted OPS for Atlanta this year. For fans of Wins Above Replacement, Heyward is sixth in the National League. In other words, he's been spectacular, and spectacular since Day 1 of 2010.
ESPN Stats and Information adds the following:
Entering play Tuesday, Jason Heyward had played 47 games. Just for comparison's sake, here is what Alex Rodriguez did in his first 47 games (also at age 20).

     Heyward     Rodriguez
BA     .292        .237
HR       10           3
RBI      38          14
K        36          47
There's also, to say the least, the matter of St. Louis' Jamie Garcia (1.32 ERA) and Cincinnati's Mike Leake (2.45 ERA).
At least Ely has a bouncy leg up on Aroldis Chapman, though Chapman provided intriguing viewing for Craig Calcaterra of Hardball Talk.
* * *
Hong-Chih Kuo surely won't be available to pitch today and Jeff Weaver might be limited, but five other Dodger relievers — Jonathan Broxton, Ronald Belisario, Ramon Troncoso, Justin Miller and Travis Schilchting — can back up Carlos Monasterios after limited-to-no use over the past two nights.
Andre Ethier has moved into third place in the N.L. All-Star balloting for outfielders.
Seth Etherton had his second straight superb outing for Albuquerque on Tuesday, allowing no runs and six baserunners over seven innings while striking out seven. Despite his performance and Jamie Hoffmann going 3 for 4 to raise his OPS to .809, the Isotopes' Scott Dohmann allowed four runs in the ninth inning to take a 5-4 loss.
Prodigal Dodger Travis Denker, 24, went 4 for 5 for Inland Empire on Tuesday to raise his on-base percentage with the 66ers to .419. Austin Gallagher, 21, went 4 for 4.
Trayvon Robinson of Chattanooga was named Southern League Hitter of the Week for May 24-30 after going 6 for 21 with three home runs.
While everyone waits for Jerry Sands to get promoted from Great Lakes, the slugger is slumping a bit. After going 0 for 3 with a walk in the Loons' 6-2 victory Tuesday, Sands is 2 for his last 18 with no home runs and three walks. Longshot story Will Savage won again, allowing two runs over six innings so that his ERA rose to 2.26.