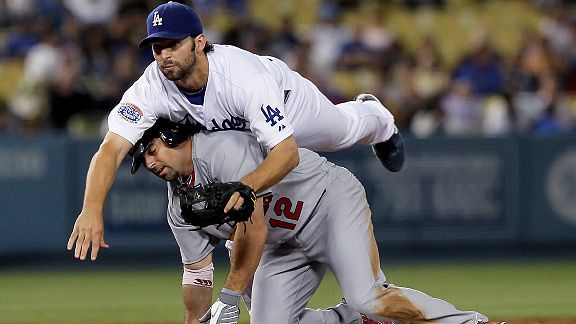 Jeff Gross/Getty Images
Blake DeWitt and Aaron Miles star in Series Metaphor Theater.
'Twas a fortuitous bounce.
Leading off the top of the ninth against the Dodgers' Jonathan Broxton for the second night in a row, down by a run for the second night in a row, St. Louis slugger Albert Pujols this time coaxed a 3-2 single after it appeared he had been struck out. Two outs later, he was still at first base when Yadier Molina hit a drive in the right-center gap. Matt Kemp and Andre Ethier both pursued, but it landed just out of reach on the warning track – and then, as if on classic Cardinal AstroTurf, bounced into the bleachers. Pujols, who would have scored the tying run, was pinged back to third base on the ground-rule double.
Repreived, Broxton induced a slow ground ball from Randy Winn to Casey Blake, who narrowly completed the throw to James Loney for the final out of the Dodgers' 4-3 victory, the franchise's first three-game sweep of the Cardinals at home since A.D. 1988. With San Diego rained out, Los Angeles now leads the National League West by one game, and heads into Thursday's off day having gone 11-5 since their last. Nine of those victories were by one run. In consecutive series against (at-the-time) division leaders, the Dodgers went 5-2.
The Dodgers led this one all the way and at one point seemed to be headed for a surprising, dominating and even history-making romp. Through three innings, the Dodgers cuffed the normally nemesing Adam Wainwright (1.38 ERA in his past five starts vs. Los Angeles, per True Blue L.A.) for four runs on six hits and four walks, two of the runs coming on a Manny Ramirez first-inning homer.
While Wainwright needed 70 pitches to get through those three frames, Clayton Kershaw allowed only a first-inning walk to Pujols while striking out six. But Kershaw faltered briefly but significantly in the fourth inning, surrendering a three-run home run to Ryan Ludwick.
Kershaw only allowed two baserunners thereafter while completing seven innings and striking out a total of 10 (he now has 90 on the season, one behind Wainwright's MLB-leading 91), but even with a 4-for-4 night from Loney (and thanks in part to his line-drive snag in the eighth), the Dodgers could not press their advantage. And so it came down to the reverb from the Dodger Stadium warning track to keep a spring in the Dodgers' step.
* * *
This story by Bill Shaikin of the Times is quite something. It's sure to be overblown, but it doesn't mean it's not quite a read. All I'll say is, it seems now the McCourts heard all our cries to sign Vladimir – they just signed the wrong one.
Of a different sort of interest: Ted Miller of ESPN.com reports (based on an anonymous source) that the Pac-10 is on the verge of becoming the Pac-16. It depends on Nebraska moving to the Big 10. "The new conference would be split into divisions with Texas, Texas A&M, Texas Tech, Oklahoma, Oklahoma State and Colorado forming an Eastern Division with Arizona and Arizona State opposite the former Pac-8 (USC, UCLA, Stanford, Washington, Oregon, Oregon State, Washington and Washington State) in the Western Division," Miller writes.