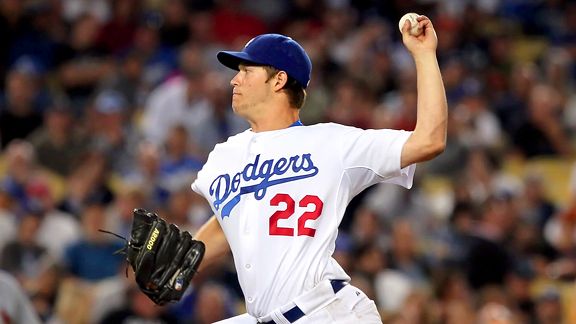 Jeff Gross/Getty Images
Clayton Kershaw, whose May 8 excellence marked a turning point in the Dodger season, leads the major leagues in strikeouts per nine innings.
In this edition of Dodger Cogs and Dogs, we're giving it over to the pitchers, who have taken things over. The hitting has remained timely enough, but the pitching has been just shy of dominating – and not just in the recent homestand. In the 30 games since May 8, the day Clayton Kershaw shut out Ubaldo Jimenez and Colorado – we're talking half the season now – the Dodger team ERA is 2.88.
No Cogs and Dogs on Monday's off day – that's too soon. The next C&D will be June 21.
| 6/10 . | 5/24 . | 5/13 . | 5/3 . | 4/19 . | 4/12 . | Player | Comment |
| --- | --- | --- | --- | --- | --- | --- | --- |
| 1 | 1 | 1 | 1 | 2 | 11 | Andre Ethier | Only OPSing .736 since return from DL, but we'll let him slide. |
| 2 | 3 | 5 | 6 | 10 | 20 | Clayton Kershaw | Out of 13 starts this year, 12 allowing three earned runs or less. |
| 3 | 2 | 2 | 2 | 3 | 1 | Hiroki Kuroda | Brief decline reversed in a big way Tuesday, lowering ERA to 3.30. |
| 4 | 11 | 10 | 5 | 6 | 13 | Jonathan Broxton | When the ERA goes down to 0.95, you get extra credit. |
| 5 | 7 | 8 | 26 | NR | NR | John Ely | If Sunday's counts as a bad Ely start, I'll take it. |
| 6 | 8 | 11 | 12 | 12 | 10 | Chad Billingsley | With 230 pitches in past two starts, extra day off might help. |
| 7 | 18 | 14 | 16 | 18 | 21 | Carlos Monasterios | Forget where he came from: He's fifth on the team in innings and ERA. |
| 8 | 16 | 18 | NR | NR | NR | Hong-Chih Kuo | Lefty batters: 0 for 20 with a walk and a sac fly. Righties only OPSing .520. |
| 9 | 4 | 4 | 3 | 1 | 5 | Matt Kemp | Less spectacular than before but still solid, reaching base in 24 of past 25 games. |
| 10 | 14 | 9 | 7 | 8 | 4 | Rafael Furcal | Looking better almost every day. |
| 11 | 9 | 16 | 11 | 7 | 6 | Casey Blake | Blake was on verge of passing Ramirez in offensive value (let alone defensive) before Wednesday. |
| 12 | 5 | 3 | 4 | 4 | 9 | Manny Ramirez | With days off and DHing, might only play four games in LF through June 24. |
| 13 | 10 | 6 | 8 | 9 | 24 | James Loney | Would just love to see him have one of those red-hot months before September. |
| 14 | 12 | 12 | 15 | 14 | 14 | Blake DeWitt | Hitting and fielding are improving gradually. |
| 15 | 6 | 7 | 10 | 5 | 2 | Russell Martin | I was propping him up for too long. Hang in there, Russell. |
| 16 | 13 | 17 | 18 | 21 | 18 | Jamey Carroll | Best walk rate on the team. |
| 17 | 25 | 24 | NR | NR | NR | Ronald Belisario | Bumped up by popular demand and belief that despite ERA, he has been key. |
| 18 | 21 | 22 | 21 | 17 | 15 | Jeff Weaver | Has faced eight batters in past 11 days. |
| 19 | 17 | 15 | 9 | 11 | 12 | Ramon Troncoso | A phantom DL trip wouldn't be the worst idea and would be easy to sell. |
| 20 | 20 | 20 | 17 | 20 | 8 | Reed Johnson | .852 OPS vs. lefties, .642 vs. righties. Would help more if reversed. |
| 21 | 19 | 13 | 14 | 13 | 7 | Ronnie Belliard | Numbers are holding up, but just doesn't play a lot. |
| 22 | 15 | 19 | 19 | NR | NR | Xavier Paul | Still happy with what he did, but he was ranked too high last time. |
| 23 | NR | NR | NR | NR | NR | Justin Miller | Six strikeouts, 1.23 ERA in 7 1/3 innings. |
| 24 | NR | NR | NR | NR | NR | Travis Schlichting | Just one game for the Dodgers, but what a game. |
| 25 | 22 | 23 | 20 | 15 | 25 | Vicente Padilla | His return could come at just the right time. But he won't be as fun as Carlos. |
| 26 | 23 | 25 | 22 | 19 | 19 | A.J. Ellis | He should be able to stay in the majors as backup for some time to come. |
| 27 | 29 | 29 | 28 | 25 | NR | Jon Link | Reestablished himself as viable emergency reliever with two shutout innings. |
| 28 | 24 | 26 | 24 | 23 | 23 | Brad Ausmus | His .750 OPS is third-highest of his career (minimum four plate appearances). |
| 29 | 26 | 21 | 23 | 24 | 17 | Ramon Ortiz | Still sixth on team with 30 innings, 1 2/3 more than Broxton. That gets a "Yikes!" |
| 30 | 27 | 27 | NR | NR | NR | Nick Green | Biggest achievement of '10: reminding Ned Colletti that some players do clear waivers. |
| 31 | 28 | 28 | 27 | 26 | 26 | George Sherrill | I think he can, I think he can, I think he can … |
| 32 | 30 | 30 | 29 | 27 | 22 | Russ Ortiz | This is it, Russ. Next time, I'm bumping Anderson up for intangibles. |
| 33 | 32 | 32 | 30 | 22 | 16 | Garret Anderson | Two RBI in his past seven games … and his average is still tumbling |
| 34 | 31 | 31 | 25 | 16 | 3 | Charlie Haeger | I think he actually is hurt; I also think he'd clear waivers. |
| 35 | NR | NR | NR | NR | NR | Scott Elbert | Don't call up a struggling pitcher for a game at Colorado, okay? |