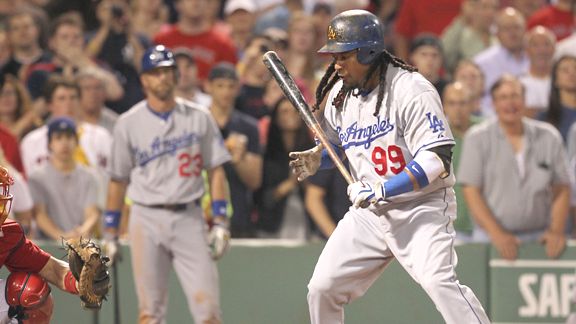 Jim Rogash/Getty Images
Manny Ramirez is rendered powerless by the final pitch of the game.
Down 10-3 after five innings, the Dodgers actually found themselves not only they poised to send the tying run to the plate in the ninth inning at Fenway Park on Friday, but a tying run in the person of Manny Ramirez.
With two on and one out and Ramirez on deck, eyeing a grand slam that would tie the game at 10-10, a highlight that would have rivaled or even surpassed 2009's Bobbleslam for radioactivity, the Dodgers suffered a blow when Andre Ethier's hard grounder was turned into an out by Red Sox first baseman Kevin Youklis.
And then Ramirez, who had made good contact his first three times up this evening, was frozen on a 2-2 slider from Boston reliever Daniel Bard, taking a called game-ending strike that sealed the Dodgers 10-6 defeat.
The end delighted the Fenway Park crowd, which all in all treated Ramirez fairly enough. Maybe more than half booed, but there were plenty of cheers and no significant viciousness.
As badly as Carlos Monasterios pitched today – and he was fooling next to no one, allowing eight hits and in four innings, including two home runs (one by David Ortiz to deadest center, one off the top of the Green Monster by J.D. Drew that was approved via instant replay) – the Dodgers still had chances to wrestle this game away. After rallying from an initial 3-0 deficit to tie the game, Monasterios finally got the hook when he gave up the go-ahead run on a single, walk and double to start the bottom of the fifth.
Ramon Troncoso relieved Monasterios, and everything that has gone wrong for Troncoso this season seemed to crystallize in his five-batter outing. Darnell McDonald singled in two runs, and then Adrian Beltre slugged a two-run homer from his knees. Jason Varitek then doubled and Mike Cameron singled before Troncoso hit Daniel Nava with a 2-2 pitch.
Two so-called productive outs off Travis Schlichting scored the remaining Troncoso baserunners, inflating the beleaguered reliever's ERA to 5.81 this season. The Dodgers are certainly revisiting some starting pitching worries this week – Ned Colletti is definitely targeting an acquisition at the trade deadline, according to Tony Jackson of ESPNLosAngeles.com – but Troncoso is a nagging concern. Worse ideas than giving him 15 days of time off continue to occur to me.
But like I said, there were bright spots for the Dodgers – Matt Kemp's triple to right-center on a 2-for-5 night being one of them. Garret Anderson had a home run in the ninth inning. And the team continued to battle. Aside from the ninth inning, the team's best look at the game after the Red Sox' seven-run fifth inning came immediately thereafter, when they scored two runs with none out in the sixth. But Anderson and Jamey Carroll struck out, and Kemp grounded out.
The one player who didn't reach base for the Dodgers on Friday: Ethier, who went 0 for 5.
* * *
Kemp thinks he has solved his basestealing problems, according to Ken Gurnick of MLB.com:
"I saw that I was raising up instead of leaning toward the next base," said Kemp. "You wouldn't think that raising up would get you out of whack, but it did. And I need to get bigger leads. I know I'm better than this.

"I ain't going to lie — I know you're not supposed to think like this, but you get caught nine times, you start wondering if you shouldn't go. I've got to get back to stealing bags and get into scoring position for Andre [Ethier] and Manny [Ramirez]. I haven't even tried to steal third base. I've got to be aggressive."