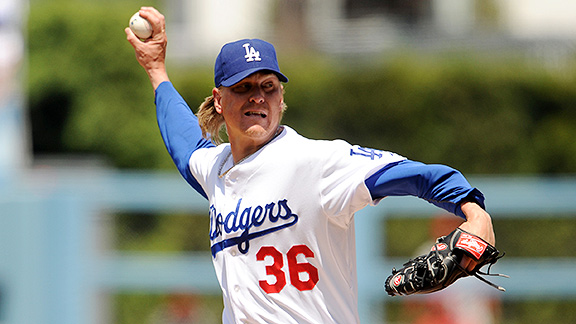 Chris Williams/Icon SMI
Opponents have a .282 on-base percentage and .321 slugging percentage against Jeff Weaver this season. Since returning to the Dodgers in 2009, his home ERA is 2.68.
The Dodger rotation after today's game in Boston:
Monday: off
Tuesday: Clayton Kershaw
Wednesday: John Ely
Thursday: Vicente Padilla
Friday: Hiroki Kuroda
Saturday: ???
Those question marks shouldn't be filled by a pitcher who isn't major-league ready, just because he's a "starting pitcher."
Right now, the best solution for the Dodgers might just be to start Jeff Weaver even if he can only go for two or three innings, and then follow him with a bevy of relievers. And then make a roster move the following day to help rebuild the bullpen if necessary.