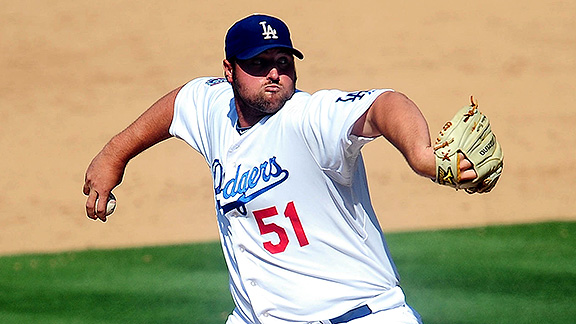 Gary A. Vasquez/US Presswire
Jonathan Broxton (shown earlier this month) has not allowed any runs or inherited runs to score in 25 of 30 appearances in 2010.
I like Andre Ethier. Like him a lot. I like Jonathan Broxton a lot, too.
I don't like that Andre Ethier is allowed to fail, but Jonathan Broxton isn't. Or maybe that's the wrong way to put it – maybe it's just that Broxton's excellence is taken for granted in a way Ethier's isn't.
Because of Ethier's history of walkoff success, no one holds it against him when he doesn't come through in the clutch – which, quite frankly, is often. Part of that is the nature of hitting, which is very difficult.
Nevertheless, it's something that when Ethier walks off with a victory, the fans build statues in his honor, and when Broxton walks off the mound with a Dodger victory, people shrug. That includes the past two postseasons. In his 11 appearances, Broxton did his job nine times.
Oh, but he didn't do it 11 times.
In Game 4 of the 2009 National League Championship Series, Broxton entered the game in the same situation he entered Saturday's game against Boston: runners on first and second, two out. And he got the out.
Then, after having had four consecutive scoreless appearances against the Cardinals and Phillies in the playoffs, he gave up the winning run in the bottom of the ninth. But does anyone remember what happened in the top of the ninth, with Rafael Furcal on third base and two out against Phillies reliever Brad Lidge?
Ethier struck out.
But I suppose some Dodger fans would rather have had Lidge on Saturday. After all, he did win a World Series once.
Here's Broxton's game log for this year before Saturday. I mean, it's incredible. Those of you who can only focus on Broxton's failures, you're missing a heck of a show.