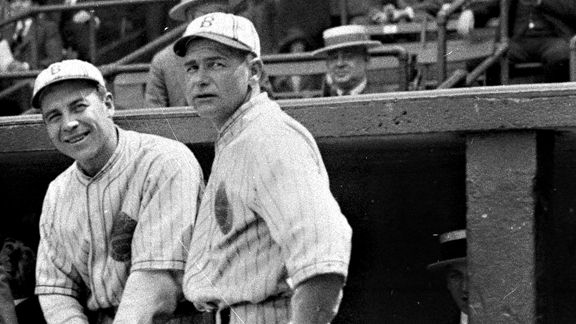 AP
Brooklyn Dodgers first baseman Jack Fournier and outfielder Zack Wheat, left to right, in the dugout at Ebbets Field, 1921.
ESPNLosAngeles.com has a fan poll for you to pick your all-time Dodgers team, and I'll show you my choices to help kick things off.
I approached my picks for the team as sort of a test of myself.  I've studied the Dodgers long enough — wrote a book on them, after all — I didn't want to look up any statistics. I wanted to pick a team based on my knowledge and feelings for the players. If I made any bad picks, I figure I'll learn what my blind spots still are.
Left field
I started near the bottom of the alphabet to find my top guy.  Zack Wheat was an extraordinary player, a Hall of Famer with such talent that he was actually able to work the system long before the free agent era to get real raises. He's the Dodgers' all-time hit leader and, if I recall correctly, was a fine fielder to boot.
Center field
Just a few stops up the alphabet elevator from Wheat was Duke Snider, and I don't think I need to explain his choice. I also would note that I'm trying to pick a true fielder for each position — a right fielder, center fielder and left fielder — and Snider nicely fills the middle spot.
Right field
Several players would have been suitable here, but I had to go with one of my earliest childhood favorites, Reggie Smith. His time in Los Angeles was relatively short, but he's just my guy.
Toughest outfielders to leave off: Gary Sheffield, Tommy Davis, Willie Davis, Babe Herman, Shawn Green, Pete Reiser … really, just about all of them, with few exceptions.
Third base
Pedro Guerrero might be better suited for the outfield, but I'm glad he's here butchering the ball in the hot corner rather than forcing me to choose between him and Wheat. Choosing Guerrero over Ron Cey is no easy task, either, but I am just too partial to Guerrero's hitting brilliance.
Shortstop
Pee Wee Reese is a relatively easy pick for me here — in my mind, as complete a shortstop as the team has ever had in the long run.
Second base
Davey Lopes had a great Dodger career — and so, though some might not realize it, did Jeff Kent. But there's no question that Jackie Robinson is the choice for all-time Dodger second baseman, objectively and subjectively.
First base
I didn't think long before choosing Gil Hodges over Steve Garvey, who would be my Los Angeles pick.
Catcher
Cheating a little here: I very well should be picking Roy Campanella, but it's clear that places for the guys I watched play are rare on this team. Mike Piazza was the greatest hitting catcher I ever saw, for any team. Part of this pick is a protest that he was ever traded.
Starting pitchers
Tough stuff here — about as tough as the outfield.  Reinforcing my Piazza pick is my partiality for ye olde Brooklyne players. I almost indulged myself with stingy Jeff Pfeffer, but the nagging reality that his ERA took advantage of his era made me reconsider in favor of the more memorable Burleigh Grimes, whose book chapter I really enjoyed writing. I then added Dazzy Vance, a late bloomer but probably a more defensible choice than either of those two. Then after obviously adding Sandy Koufax, I debated Don Drysdale, Don Sutton, Fernando Valenzuela and Orel Hershiser before settling on the Bulldog. While Drysdale and Sutton are Hall of Famers, and Valenzuela the one that evokes the most passion in me, right now I just can't picture Hershiser doing anything but shutting his opponents down. Tomorrow, I'd probably pick someone different.
Closer
An embarrassment of riches here, but I have to go with Eric Gagne. I sure do have a soft spot for Takashi Saito, though.
Manager
Walter Alston won the Dodgers' first two World Series titles, arguably their two most important: the long-awaited Brooklyn championship in 1955, and the one that galvanized the fan base in Los Angeles in 1959 after a poor first season — a title that ranks with 1988 on the improbability scale. Alston then added two others. He had his own disappointments, and his teams didn't have much to show after Koufax retired, but I still consider him an underrated manager. In somewhat similar fashion, Tommy Lasorda had great success early on, punctuated later by an unforgettable title in '88. At times I have underrated him as a manager, but I'm not going to go so far as to choose him over Alston. Either, frankly, would be a fine pick. Had Leo Durocher stayed longer with the Dodgers, maybe he'd be the one.