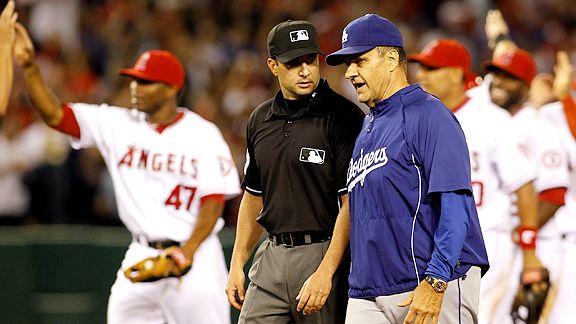 Lori Shepler/AP
Joe Torre argues with second-base umpire Jim Reynolds as the Angels celebrate their win.
It was hard to watch the Dodgers tonight, hard to watch Matt Kemp hit into hard luck (even with an RBI double), hard to watch the return of John Ely (seven innings, one earned run) get wasted, and hardest of all watch Rafael Furcal make two critical errors in his first game back from burying his father.
And then …
With runners on first and second and none out in the ninth inning, Dodgers down by a run, Casey Blake, who sacrificed with runners on first and second and none out in this one-run victory over St. Louis on June 9, struck out.
And then …
With the count 3-1 to Russell Martin (after a questionable 3-0 strike call), Kemp is picked off second base.
And then, and then, and then ….
After Martin walks to keep things alive, pinch-hitter Jamey Carroll bloops a single to left field. And with pinch-runner Reed Johnson coming home to score the tying run unchallenged, Martin rounds second base too far and is tagged out before Johnson crosses the plate.
"I thought we gave it away," Joe Torre told Prime Ticket after the game. "I thought Russell was safe getting back to second, but he can't put himself in peril like that. … It was stated (to the team before the game) that Fuentes has a move, just be careful of his spin-around move, and we got caught. We need more than ability to play this game."
I want my thoughts to be with Furcal, and the worst part of the way the ninth inning went down is that it makes it hard.
It's not for me to say what was going on in Furcal's head, it's not for me to say whether the errors were coincidence or whether he came back too soon, it's only for me to say that I feel for him. Tonight's loss will pass within a day or days, but Furcal will carrying his burden, I can imagine, the rest of his life.
The wolves will be out for the Dodgers, fierce. I want my thoughts to be with Furcal.