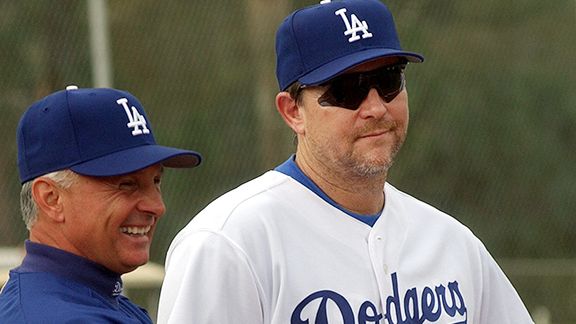 Richard Drew/AP
Tim Wallach, shown here as a Dodger coach, has handled all kinds of challenges as Albuquerque's manager.
With the Albuquerque-Los Angeles shuttle in overdrive, I thought this might be a good time to check in with Robert Portnoy, friend of Dodger Thoughts and the play-by-play broadcaster for the Isotopes. And with that largely ado-free introduction, here's the interview:
1) First, can you update us on when we might see James McDonald and Scott Elbert back in action? What can you tell us about Elbert's situation?
I don't have anything to tell about Elbert's situation. He is not with the team and we haven't received word when he might return. McDonald's recovery from his hamstring strain is coming along well in Arizona. He has thrown a simulated game and is scheduled to make his first start in an Arizona League game. [Note: McDonald pitched two hitless innings Tuesday, after this interview was completed.] His return date is not set, but it's not too far off.
2) How is McDonald handling things in a year he probably thought he'd be in the majors? Especially when things just seemed to be coming together for him before he got hurt.
He was very disappointed when the injury occurred, that was evident. There's no doubt he was pitching better than he had all season at the time he went down. He was handling being in Triple-A quite well. He realized he had things to work on, and he made great strides. At the start of the year, A.J. Ellis told me J-Mac's changeup has always been his best secondary pitch, the one that's always there for him, his most reliable. J-Mac said his changeup was terrible at the start of the year. He was throwing it much better before the injury. His rehab has been exclusively in Arizona, so I can't comment on how he's handled that process.
3) The roster comings and goings have been endless. How crazy has it been, particularly in the Isotopes starting rotation? How does Tim Wallach handle it?
Wallach is as even-tempered as they come, unflappable. The kind of manager who watches a terrible base running mistake, pulls the player aside for a brief moment, asks if that player's aware what he should have done, then tells him to put it behind him so he can help win a ballgame. He realizes that the primary goal is get players ready to help the Dodgers, and if that leaves his rotation depleted, he'll adjust. The injuries to key guys don't help, obviously. Yesterday, big league veteran Tim Corcoran, a reliable starter since joining the rotation, had to leave his start early. We hope he won't miss a turn.
4) What do you think of Wallach as a managerial prospect?
Fantastic. He's a players manager who keeps proper distance and maintains full authority. One step ahead, it seems, all the time. When he pitches out, they're running. His instincts are great. Always gets the matchups he wants. One game I distinctly recall talking about multiple scenarios on the air, then asking him about them after the game. He discussed those and gave three or four others he had considered. He can play the chess game with the best of them.
5) Is it a relief to see Josh Lindblom moved to relief?
Josh has a tremendous head on his shoulders, and he's a real student of the game. Talks about Clemens, Halladay, Carpenter as starters he tries to emulate, even gave me a Goose Gossage reference when talking about his favorite closers (mentioned Goose getting six outs or more for many of his saves). I had a great conversation with him on our recent road trip in Iowa. Here's the thinking: He has been a reliever, has never even thrown 100 innings in a season. His arm isn't accustomed to logging that much work yet. So, the past two seasons he's gotten run down, lost his arm strength. I think he has the stuff, the fastball command, and the makeup to be a big league starter, a real innings-eater, IF his body can adapt. If not, he'll make an above-average middle innings or setup guy who can get you up to three innings because he has four quality pitches. He's a big leaguer for sure.
6) Are you able to see what weaknesses John Lindsey has to keep him from the majors? (And when will he return to the field?)
John might rejoin the team when we get back to Albuquerque this weekend, but he could still have a bit more rehab to do before getting back on the field. He has been recovering from his calf strain in Arizona. John's a professional hitter, he could help the Dodgers with his bat right now. He's not James Loney at first base, but he can hold his own. Defense might be the only thing that's holding him back.
7) Jay Gibbons is a potential lefty bat off the Dodger bench with major-league experience. What do you see as his strengths and weaknesses at this point in his career?
Gibbons' only weakness, if you can call it that, is how hard he plays. At 33, he still leaves it all out there every day. But as a lefty bat off the bench, there's no wear and tear. He would be ideal, because he could stay in the game and play either corner OF position or 1B adequately, and he'd be great for multiple ABs because he's actually BETTER against lefties than righties, the numbers don't lie. His bat is level through the hitting zone longer than anybody I've ever seen, period. And he threw two guys out on the bases from RF in one inning in Iowa last weekend.
8) Does Xavier Paul have anything left to prove in the minors? What is he working on?
No. He's an everyday big leaguer waiting for his chance. He's working on his defense constantly, looking to continue to improve in that area any way he can. His arm is unquestioned. Just in the last week, naive hitters have tried to stretch singles into doubles when he's playing left and paid the price twice. Strong and accurate thrower. RF arm in LF when he plays there. When he keeps his focus in the field, he's an above-average defensive OF. He has shown how he can hit when he's been with the Dodgers this year. He is tearing up PCL pitching, and now he's hitting for power, which adds the final piece.
9) How is Ivan DeJesus' comeback going?
Talked with Ivan in Iowa as well. He's still working to get strength back in the surgically repaired left leg. It's a process. He told me that his rehab was rushed a bit last year, when he first tried to run his leg wasn't ready. They had to shut him down and reset the timetable. He hasn't had any problems, though. Going very smoothly. He looks great, and his swing is terrific, uses right-center a lot, and can drive the ball that way. Best of all, he's already had multiple plays this year at home plate, where he's beaten throws with a variety of slides, and he says he doesn't think about the collision that caused the injury anymore.
10) Anyone under the radar on the Isotopes roster that you like?
There are several, but if I had to pick one, I'll go with Russ Mitchell. Has been solid at the plate all year, consistent approach, hits for average and power. Really impressive at 3B, good first step and strong arm, equally good going left, right, and coming in. And he can play 1B and 2B capably as well. He's even played OF in his career, though we haven't seen him there yet. But he's not a utility guy, I like him at 3B every day. He's the one keeping everybody loose, always talking, laughing. Clearly loves coming to the ballpark, loves what he's doing.
* * *
* * *
For Dodger fans feeling down about the team's losing streak, this should cheer you up.