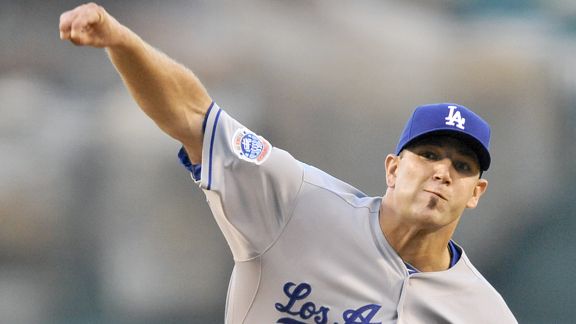 Gus Ruelas/AP
Charlie Haeger let the ball leave his hand 102 times Thursday, allowing five hits and four walks in 4 2/3 innings. And his team won.
By itself, the first inning of the Los Angeles-Los Angeles game tonight was enough to mock Dodger fan attempts at sanity. And there was more where that came from.
In that first inning:
The Angels' first batter, Howie Kendrick, hit a soft chopper that lofted over skepticism-inducing starter Charlie Haeger's head and then died before Rafael Furcal could reach it and throw Kendrick out.
A pitch that crossed up Russell Martin moved the fortunate Kendrick to second base, preventing him from being erased on a potential forceout or double play when No. 2 hitter Kevin Frandsen grounded to second base. Instead, Kendrick went to third base.
In a game that the Dodgers could have bet the farm they'd need a lot of runs to win, Joe Torre inexplicably decided to play the infield in with one out in the first and Bobby Abreu up. Abreu hit a grounder just past the drawn-in Furcal that went for an RBI single. Haeger, who could have had a 1-2-3 inning, was down 1-0.
Trying to steal on the knuckleballer, Abreu was thrown out by a Martin laser.
Torri Hunter hit a fly ball to the gap that the doghoused Matt Kemp reached but couldn't corral. Hunter got a double.
Trying to steal on the knuckleballer, Hunter was thrown out by a Martin laser.
Three baserunners, one hard-hit ball, one run, thousands of discombobulated fans.
By the time the Dodgers left the bases loaded in the second inning without scoring, after Manny Ramirez only made it from first to third base for the second night in a row on a two-out double, most everyone were presumably back to assuming the worst.
Instead, more confounding ensued.
The Dodgers scored five runs in the top of the fourth and another run in the top of the fifth to take a 6-1 lead. And while that was happening, Haeger pitched … not horribly. Over his next three innings, he allowed three walks (none scoring) and a solo home run that made the score 6-2.
None of these things was supposed to happen to the team that couldn't possibly win this game, the team that had came to the ballpark tonight with the odds so stacked against them that the only thing missing was Tommy Lasorda calling out Bob Costas.
Even the Dodgers' latest blunder was miscast if you read the script. In the fourth inning, Jamey Carroll was safe at second on a grounder by Andre Ethier. But the usually cagey veteran, never accused of any baseball malfeasance, either failed to call time out or thought he had been called out, and simply walked off the base, allowing Brandon Wood to tag him out. An inning later, the Dodgers caught stealing of the night went to Casey Blake. (Carroll and Blake each had a three-hit night as consolation).
So much that was unexpected was happening that it got to the point where Haeger actually seemed to find a rhythm, actually seemed like he might have turned things around, when he struck out the first two batters in the bottom of the fifth.
But then someone gave the snowglobe another shake.
Haeger allowed a walk and single, and was pulled from the game. Ramon Troncoso, continuing recent disturbing relief trends, allowed both inherited runners to score on hits to cut the Dodger lead to 6-4.
In the bottom of the sixth, Jeff Weaver replaced Troncoso after a one-out walk to Reggie Willits and allowed the tying run to reach base on a single. How'd the Dodgers escape? After Kendrick flied to shallow center, with Hong-Chih Kuo warming up in the bullpen for a potential showdown with Abreu, Willits went down on a  slightly nervewracking 1-4-3-5-2-5 pickoff. The Angel team reportedly coached to perfection by Mike Scioscia and his ex-Dodger staff had a key runner on third base picked off for the second time in three nights.
Another shake. The Dodgers score two runs in the bottom of the seventh. And then a bank of lights go out, suspending play for 18 minutes. But instead of descending into the heart of darkness, the Dodgers came back after the delay to score another two runs in the eighth. They end up with 20 baserunners in all.
And then …
Justin Miller and George Sherrill, trying to protect what had become a blowout 10-4 ninth-inning lead, can't. Three hits and two runs to lead off the bottom of the ninth require Jonathan Broxton, the team's seventh reliever, to try to keep the team from falling yet another circle deeper into hell.
Broxton gets a strikeout – and then of all things, Abreu is thrown out trying to advance to third base on a potential wild pitch, with his team down by four runs. I mean, that says it all about trying to say it all, doesn't it?
Finally, more than four hours after the first pitch, a final Broxton strikeout, and the Dodgers had a 10-6 victory that ended their six-game losing streak. With the Padres, Giants and Rockies (13-11 in 10 innings) losing, the Dodgers reversed field on all their National League West rivals.
And they also showed that judging players or a team at their worst isn't the best way to judge them. No one's going to take tonight's game and suggest the Dodgers are unbeatable. But that's why Wednesday's game shouldn't have been allowed to suggest such hopelessness.
Put that in your pipe and smoke it on the way to facing the mighty Yankees. Vicente Padilla against CC Sabathia? Ha ha – laugh at the danger.