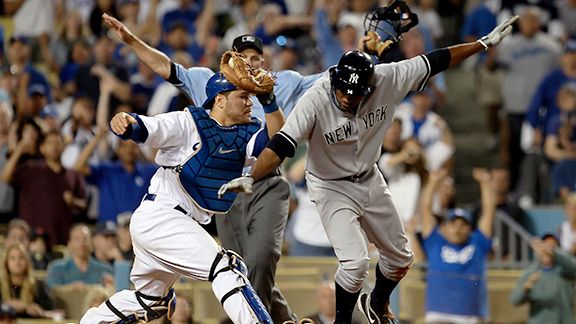 Jeff Gross/Getty Images
Curtis Granderson scores the tying run ahead of Russell Martin's tag in the ninth inning tonight.
"An evening of Yankee screwups completely shot to hell."
That line comes courtesy of Dodger Thoughts commenter BHSportsGuy, and that's tonight's 8-6 Dodger loss.
The Dodgers, who for eight innings had answered so many of the snickers about their recent peformance, who were three outs away from two convincing victories over the Yankees after a narrow loss, find once again that the joke's on them.
The headline was going to be, "Dodgers' triumph over Yankees draped in bunting." The team hit the motherload with three successful bunts in a three-run third inning, two of which were thrown away by Yankees starter Andy Pettitte. (The Dodgers tied a team record tonight with six combined sacrifice hits and sacrifice flies.) Two more runs followed in the fourth, while Clayton Kershaw looked in complete control on the mound, walking no batters for the first time in his career and allowing what seemed to be a meaningless two-run homer by Alex Rodriguez in the sixth inning.
Eight innings in which the Dodgers executed flawlessly – capped by an adrenalin-rushing 3-6 double play started by James Loney –  eight innings in which the Yankees looked like the pretenders, all gone as the leader of the Dodger bullpen, Jonathan Broxton, couldn't protect a four-run lead in the ninth.
I think even most of Broxton's detractors would agree that tonight's career-high 48-pitch outing, in which he allowed more earned runs than he had all season, was more about his lack of stuff than anything else. Coming off a four-out appearance Saturday, Broxton just didn't have it, and the Yankees just ate him up like vultures. It certainly wasn't that Broxton couldn't do the job against an American League team on national television, considering that he had done so 25 hours earlier.
But it surely was an agonizing demise, painful to endure, good times bleeding into excruciation.
The 10th inning then completed George Sherrill's utter fall from grace, as he was brought in specifically to face left-handed Robinson Cano (who it should be noted entered the game slugging .596 against lefties) and gave up a two-out, two-run home run for the Yankees' first lead.
If you're angry, you're not alone. The Dodgers have boiled over, with mild-mannered Garret Anderson and frustrated Russell Martin both ejected – the team's fourth ejections in the past four games, two by Martin. (Anderson must have said something interesting, because he was about 30 feet away from home-plate umpire Chris Guccione and running toward the dugout when he was tossed).
So more than one question has been answered this week: The Dodgers do care. They also aren't, by any stretch, the only team capable of looking bad in the field. They can play this game. They have heart, and they have talent.
But this question remains: When are they going to get some wins?