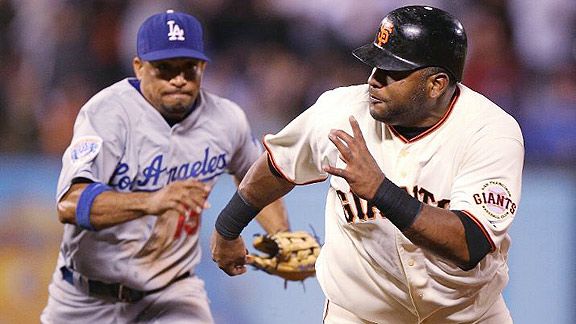 Jed Jacobsohn/Getty Images
Rafael Furcal runs down Pablo Sandoval to complete a 9-3-6 double play, one of five San Francisco hit into.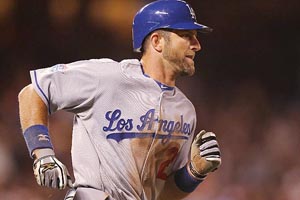 Jed Jacobsohn/Getty Images
Casey Blake looks good rounding the bases on his eighth-inning homer.
After a Los Angeles record-tying five double plays – including a huge 9-3-6 twin killing with runners on first and third and none out in the seventh – kept the team by the bay at bay for seven innings, Casey Blake hit an enormous two-run homer to break a 2-2 tie in the eighth inning, and the Dodger bullpen held on so that everyone could exhale after a long day of suffering with a 4-2 victory.
Unsurprisingly, Chad Billingsley wobbled in the first inning of his first start in more than two weeks, but he ended up with a satisfactory six-inning outing, allowing two runs and seven baserunners on 98 pitches.
Blake's homer was the first the Dodgers have hit to give themselves a lead after the seventh inning since a Matt Kemp blast ended a scoreless tie against Arizona in the 10th inning on June 1.
Hong-Chih Kuo allowed two baserunners in the ninth but closed it out for the Dodgers, who said that Jonathan Broxton will be rested until at least Wednesday.
With the victory, the Dodgers moved back into second place in the National League West, four games behind San Diego, which lost to Colorado.
* * *
Tony Jackson of ESPNLosAngeles has a story tonight on Matt Kemp's ongoing benching.
When asked whether Kemp would return to the lineup on Tuesday night against the Giants, Torre was non-committal.

"We'll see," he said. "We're trying to get on a little bit of a run. If we had won [Sunday] night, it would have been three out of four. I think we have been playing a little better. Hopefully, we're building something now, and we'll see if we can get on a run."
This rationale is just a ruse, considering that the Dodgers won the last game they played with Kemp starting and reaching base three times while making a fine running catch. Torre has decided to play the tough love card. Sounds like this one gets about a nine on the tension scale.