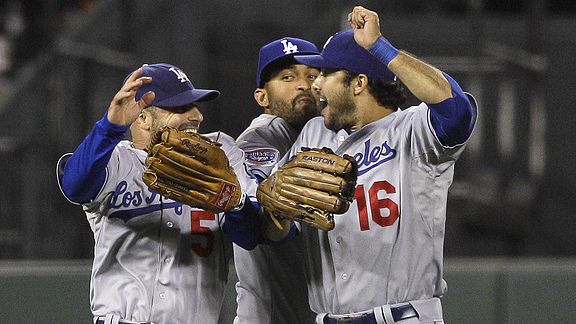 Jeff Chiu/Associated Press
Matt Kemp went 2-for-4 Tuesday with two running catches in his first meaningful game action since Saturday.
Matt Kemp happens to be represented by an agent, Dave Stewart, who made a reputation as a player as someone who took the game of baseball very seriously.
In an interview with Dodger Thoughts this morning, Stewart made no bones that it has been a struggle for Kemp the past two months, but expressed confidence that the experience has helped Kemp grow and, having cleared the air with Dodgers manager Joe Torre before Tuesday's game, that he's ready to turn a corner.
"It's not been a really happy period of time the past couple of months for him," Stewart said. "I think the gathering with him and Joe will help improve that mental frame and get him in a better place where he's able to concentrate and play the game in a different state of mind. I think probably he's going to be a bit happier. … I think that the pressing will discontinue."


Stewart
Stewart said that the critical radio comments by Dodgers general manager Ned Colletti in late April, at a time when Kemp was hitting at an All-Star level, didn't go unnoticed, but that they weren't an excuse for Kemp's play in recent weeks.
"Those comments were unexpected," Stewart said, "and obviously not well taken. But that should only last for a period of time. I don't think that should be a two-month holdover. You know what I'm saying? I think at that time it was hurtful and probably caused a bit of a problem for a period of time, but like I said, that's been two months ago, and I think we should have been able to turn the page on that and get to a new place. I think in today's game that's so behind that we can't look at that."
An MLB.com report that Kemp had "a disagreement … with a member of the coaching staff in the dugout while discussing a game situation Saturday," combined with Torre's on-the-record comments Tuesday that he wouldn't have necessarily put Kemp in the starting lineup for today's game if Kemp hadn't approached him, makes it seem logical that Kemp's benching was related to a clubhouse issue. Stewart was limited in addressing that, but emphatic that Kemp is not taking things for granted.
"The truth is, whatever it is that has taken place with the coaching staff and with Joe, my guess would be that those things are going to be behind [Kemp]," Stewart said. "I'm not at liberty to talk about what goes on in that capacity. That would be something I'm sure that if Matt wanted to talk about it, he would have, and he didn't.
"Joe is the manager," Stewart added, "and with that comes a lot of responsibility for 24 other guys, which Matt and I both understand, which is also the reason Matt has really had no outward complaints toward what Joe has done.
"We've talked about it, and I think the conclusion we've come to is that there can be and there have been misconceptions of Matt. I've read it so many times and I've heard it so many times that he walks around as if he doesn't care. That, I can guarantee you, is the furthest thing from the truth."
Stewart said that Kemp will continue to work with Dodgers coach Don Mattingly on his hitting, but also implied that he needs to tune out some other advice so that he doesn't get overwhelmed.
"I've never seen him ever not open to instruction," Stewart said. "You have to be careful when things are going bad to being open to too much instruction. There's a fine line in there. What I've learned in this game is that people have a way of feasting on other individuals when you're in a weak moment. Matt's smart enough to understand what's helpful and what's not, [but] in this game, when you're in a down period, getting opinions and instruction from everyone can be worse than no instruction at all.
"That's not talking about the coaching staff. I'm sure he's gotten calls from different people around the league, and God knows I've been a part of that problem, too."
Stewart also claimed, in what might be an unpopular viewpoint, that even though the 25-year-old Kemp has now been in the majors for most of the past four years, his baseball youth remains a factor.
"I can tell you from my own experience, it took me until I was 28 years old to get an idea of what I was doing in this game," Stewart said, "and I consider myself to be a guy who played baseball for a long time, from 7 years old.
"I've read that we can't use youth as an excuse. I think when you haven't played a game for a long period of time, or as long a period of time as some of his teammates, there are still going to be some things Matt is going to learn about the game and learn about himself.
"This sport is not an easy sport, even for veteran players. There is always something around the corner, people will tell you. … For a guy who hasn't played a lot of baseball, and I'm speaking of Matt, and to have as much success as he did coming into the league — it's been a gradual success, but I don't think anyone can look back and say this guy hasn't played well in any year — and then to run into a wall as he has this year, that's a difficult process for anybody. He has struggled. Sometimes that manifests itself in different ways … but you can never accuse him of not trying to play the best that he can."
There is no physical issue to explain Kemp's struggles that Stewart knows of.
"Base stealing and baserunning, there's an art to that, and I think in time he's going to learn different techniques. Baseball makes adjustments, and Matt was sneaking up on some people before, and now baseball is aware of him and they're doing different things to do exactly what they're doing, which is to cut him down while he's trying to steal a base. There are some things technique-wise that he's going to have to learn, to put himself himself in that same category of a base stealer."
So while Kemp remains a work-in-progress, there is reason to hope that the worst is behind him for now.
"What Matt understands clearly, and we both have had an opportunity to talk about this through the last couple of months, is that he wants to play better," Stewart said. "My guess, and it's a very good guess, is that this period he's been through the last month and a half to two months is just that, a period, and eventually he is going to start hitting as he's capable."