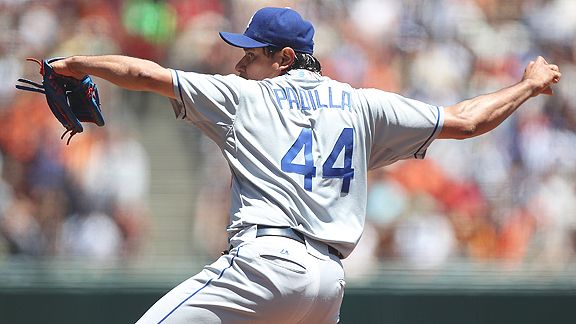 Jed Jacobsohn/Getty Images
Vicente Padilla's ERA is 3.26 since returning from the disabled list.
1) Vicente Padilla: seven innings, one run, four baserunners, five strikeouts, 98 pitches. Not sure why he didn't come out for the eighth inning considering the state of the Dodger bullpen — does he need more rest than Ramon Troncoso — but still good on him.
2) Red hot Rafael Furcal: three singles and a homer. In his past five games, Furcal is 14 for 21 with three walks and a slugging percentage of 1.000.
3) Jamey Carroll: single, double and two walks.
4) Matt Kemp: two singles, a walk and a homer, continuing the hot streak that began Saturday (6 for 11 with three walks, .909 slugging percentage).
5) Sweep.