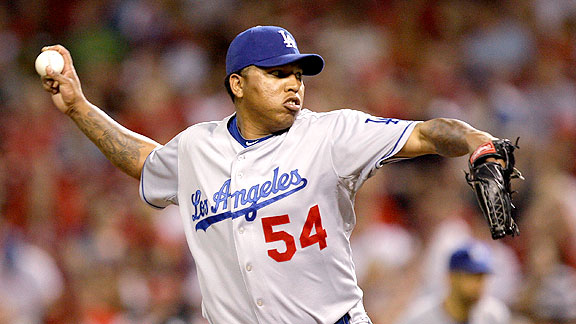 Al Behrman/APRonald Belisario
Remember all the indignation when Ronald Belisario put himself on the layaway plan when it came to Spring Training this year? Plenty of people wanted to wash their hands of the delayed arrival.
Given the current state of the Dodger middle relief, I'm not sure too many people want to cast off Belisario for his sins today.
The Dodger bullpen has shown some unexpected weakness, though circumstances aren't dire. Jonathan Broxton and Hong-Chih Kuo are brilliant short relievers, while Belisario and Jeff Weaver are satisfactory set-up men.
Carlos Monasterios will probably take the back end of the bullpen when he returns from the disabled list. Monasterios, while flaming out for the time being as a starting pitcher after a briefly glorious run, remains adequate for long relief. Assuming the Dodgers still have a long-term vision for the Rule 5 draft-day acquisition, that's where he'll be.
That covers five of seven spots in the bullpen.
Ramon Troncoso is a question mark right now. Right now, as Ken Gurnick of MLB.com reports, we're in the phase of Troncoso claiming that overwork isn't the issue, but execution is.
"I feel perfect, I feel brand new, like a baby with a new toy," Troncoso said. "My arm is good. I'm here to pitch every day. I'm going to pitch in 50 more games this year. Of course this year has been frustrating for me, but if we win, everything is OK. I don't care about my ERA, I just want to pitch good and help the team."

Bullpen coach Ken Howell said Troncoso's problems this year are part mechanical, which he's cautiously optimistic have been worked out, and partly pitch selection and execution.

"He's been throwing the curveball instead of the sinker in some situations, and the sinker is his money pitch," said Howell. "And he needs to be at the bottom of the [strike] zone. When he's thigh-high and up, he gets in trouble. His stuff is fine, but he's not pounding the bottom of the zone with the consistency of last year. But lately it's been better."
And then there's George Sherrill.
Sherrill looks hopeless, but his lefty-right splits indicate that he does retain some value if he were used only against left-handed batters. Ned Colletti has cut bait on his relief acquisitions before — Danys Baez didn't even last a season in Los Angeles — but something tells me that Sherrill won't be sent away.
However, either Troncoso or Sherrill might end up on the disabled list, for reasons legit or not — and for that matter, Troncoso still has minor-league options remaining. So the Dodgers are probably looking for a couple of relievers as contingencies.
The thing is, they probably have them already.
It would be ironic, if it weren't easy enough to foresee, that the reason the Dodgers might trade for middle relief this year is that last year's trade for middle relief has gone south. Right now the Dodgers' farewell to Josh Bell, the organization's top third-base prospect, for Sherrill isn't one to savor; Bell was called up by the Baltimore Orioles to play the hot corner tonight. It so happens that the Dodgers caught lightning in a bottle with Sherrill and his sub-1.00 ERA with the team, but Sherrill's rapid decline this year illustrates how fluky that was.
The Dodgers have Travis Schlichting, Jon Link, Kenley Jansen, Josh Lindblom, Kiko Calero and James McDonald, among others, that they can test out in middle relief. Each comes with a mitigating factor — for example, McDonald, who returns from the minor-league disabled list tonight, might be considered the No. 6 starter right now — but from that group of six alone, odds are that at least one can do the job. (Cory Wade, outrighted to Albuquerque today after a minor-league rehab assignment, is also in line for a try.) So if the Dodgers decide they need a break from Troncoso or Sherrill, they have people they can turn to at no cost at all.
They might be like Justin Miller, who was brilliant when he arrived but has since faltered. They might be worse. But a fresh arm that major-league hitters aren't familiar with — or heck, a fresh arm period — often works wonders coming out of the pen. And you only need to make it for two months until September, when rosters expand and it's all hands on deck.
Los Angeles needs to be very careful about any trade for middle relief. The species is too erratic. What you have might well be as good as it gets.