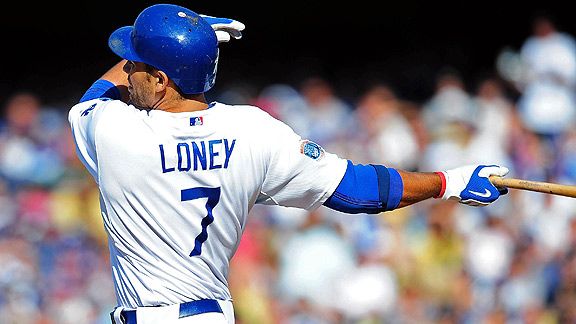 Gary A. Vasquez/US PresswireJames Loney has a .923 OPS with runners in scoring position, .698 with the bases empty.
In the final Dodger Cogs and Dogs before the season's halfway point and the All-Star Break, we (okay, I) had by far the least amount of change in the rankings, which is understandable. But there are still four players who have a shot at being the Dodgers' first-half MVP.
Remember – these ratings reflect full-season value but are partly subjective.
| | | | | | | | | | |
| --- | --- | --- | --- | --- | --- | --- | --- | --- | --- |
| 7/1 | 6/21 | 6/10 | 5/24 | 5/13 | 5/3 | 4/19 | 4/12 | Player | Comment |
| 1 | 1 | 2 | 3 | 5 | 6 | 10 | 20 | Clayton Kershaw | Is he getting it? Six walks in past 28 innings (1.9 BB/9). |
| 2 | 2 | 3 | 2 | 2 | 2 | 3 | 1 | Hiroki Kuroda | K/9 with Dodgers by year: 5.7 in 2008, 6.7 in 2009, 7.2 in 2010. |
| 3 | 4 | 10 | 14 | 9 | 7 | 8 | 4 | Rafael Furcal | Tour de force in San Francisco. Magnificent. |
| 4 | 3 | 1 | 1 | 1 | 1 | 2 | 11 | Andre Ethier | .592 OPS since coming off DL. |
| 5 | 5 | 12 | 5 | 3 | 4 | 4 | 9 | Manny Ramirez | In 9,653 career plate appearances. OPS is 1.000 (.411/.589) |
| 6 | 6 | 4 | 11 | 10 | 5 | 6 | 13 | Jonathan Broxton | Previous career-high in pitches 44 on 7/3/06. Rested three days, hit hard in next two games, then recovered. |
| 7 | 8 | 13 | 10 | 6 | 8 | 9 | 24 | James Loney | Has 47 RBI in past 53 starts. |
| 8 | 7 | 8 | 16 | 18 | NR | NR | NR | Hong-Chih Kuo | What is Torre's rationale for warming Kuo up in bullpen Wednesday with huge lead? |
| 9 | 11 | 5 | 7 | 8 | 26 | NR | NR | John Ely | Better ERA than Billingsley in only eight fewer innings. |
| 10 | 10 | 6 | 8 | 11 | 12 | 12 | 10 | Chad Billingsley | Had 11 strikeouts May 31, 11 strikeouts since. |
| 11 | 9 | 9 | 4 | 4 | 3 | 1 | 5 | Matt Kemp | Who doth the spotlight fall upon anon? |
| 12 | 12 | 11 | 9 | 16 | 11 | 7 | 6 | Casey Blake | Slumped in June after strong start for second straight year. |
| 13 | 15 | 16 | 13 | 17 | 18 | 21 | 18 | Jamey Carroll | With a .400+ OBP against righties, will 36-year-old take over second base? |
| 14 | 13 | 14 | 12 | 12 | 15 | 14 | 14 | Blake DeWitt | Only 35 plate appearances against lefties this season. |
| 15 | 14 | 15 | 6 | 7 | 10 | 5 | 2 | Russell Martin | Slugging .178 since last double June 15, .280 since last homer May 11. |
| 16 | 16 | 18 | 21 | 22 | 21 | 17 | 15 | Jeff Weaver | Has allowed three of 17 inherited runners to score this season. |
| 17 | 17 | 17 | 25 | 24 | NR | NR | NR | Ronald Belisario | 20 baserunners, 1.53 ERA in last 17 2/3 IP, but allowed three of five inherited runners to score. |
| 18 | 19 | 21 | 19 | 13 | 14 | 13 | 7 | Ronnie Belliard | Won't surprise you to learn he's hitting righties better than Anderson. |
| 19 | 20 | 20 | 20 | 20 | 17 | 20 | 8 | Reed Johnson | Also hitting righties better than Anderson – barely. |
| 20 | 18 | 7 | 18 | 14 | 16 | 18 | 21 | Carlos Monasterios | In final three starts, opponents slugged .704. |
| 21 | 21 | 22 | 15 | 19 | 19 | NR | NR | Xavier Paul | If Manny goes on DL, I think Paul should say farewell to AAA for good in 2010. (Hint.) |
| 22 | 25 | 25 | 22 | 23 | 20 | 15 | 25 | Vicente Padilla | In past two games, pitching like an opening day starter … |
| 23 | 22 | 19 | 17 | 15 | 9 | 11 | 12 | Ramon Troncoso | BABIP by month in 2010: .225, .257, .382. |
| 24 | 23 | 24 | NR | NR | NR | NR | NR | Travis Schlichting | Third-best career ERA in Dodger history (0.87), minimum 10 innings. |
| 25 | 24 | 23 | NR | NR | NR | NR | NR | Justin Miller | Midnight came early for Miller: seven runs, 17 baserunners in past 9 1/3 IP. |
| 26 | 26 | 26 | 23 | 25 | 22 | 19 | 19 | A.J. Ellis | Shirley, he can do better than a .250 slugging percentage. |
| 27 | 27 | 27 | 29 | 29 | 28 | 25 | NR | Jon Link | FYI, this guy isn't really a kid – he's 26. |
| 28 | 28 | 28 | 24 | 26 | 24 | 23 | 23 | Brad Ausmus | Hearing reports he might be back sooner than expected. |
| 29 | 29 | NR | NR | NR | NR | NR | NR | Chin-Lung Hu | Seven walks in 55 games at AAA this season. |
| 30 | 31 | 29 | 26 | 21 | 23 | 24 | 17 | Ramon Ortiz | Hammered Time: nine runs, 14 baserunners in three innings Monday for Buffalo. |
| 31 | 32 | 30 | 27 | 27 | NR | NR | NR | Nick Green | Toronto update: 1 for 3 with a walk in four games. |
| 32 | 33 | 35 | NR | NR | NR | NR | NR | Scott Elbert | Saturday marks a month since his last AAA appearance. |
| 33 | 30 | 33 | 32 | 32 | 30 | 22 | 16 | Garret Anderson | Five strikeouts in past six plate appearances; three walks all year. |
| 34 | 36 | 34 | 31 | 31 | 25 | 16 | 3 | Charlie Haeger | Returns to Albuquerque, no strings attached, after clearing waivers. |
| 35 | 34 | 31 | 28 | 28 | 27 | 26 | 26 | George Sherrill | As others have indicated, righties have 1.196 OPS vs. Sherrill, lefties .668. |
| 36 | 35 | 32 | 30 | 30 | 29 | 27 | 22 | Russ Ortiz | Highest single-season Dodger ERA this century is Trever Miller's 23.14 (2 1/3 IP). |