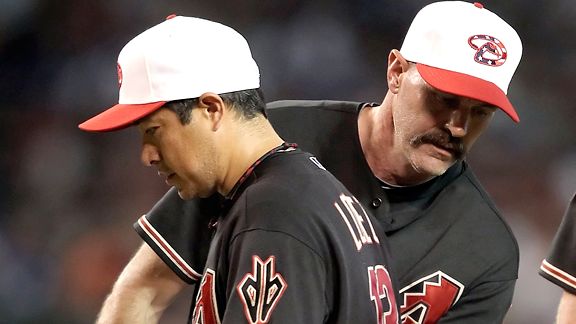 Christian Petersen/Getty ImagesAfter tonight's game, Kirk Gibson and Rodrigo Lopez have a story to rival the Andrea Doria survivors.
Clayton Kershaw and Rafael Furcal nearly had a face-to-face collision on the basepaths, and yet that mistake didn't even register tonight. But six errors by the Diamondbacks did.
Arizona broke its club record for team trauma, making its most errors ever in what would have been the team's worst shutout loss ever, before scoring a ninth-inning run to settle for a 14-1 defeat.
It would have been the Dodgers' biggest shutout victory since they won 14-0 on September 24, 1975. Los Angeles' biggest shutout victory ever was 19-0 over San Diego in 1969.
The Dodgers had a 7-0 lead before scoring their first earned runs, which came on home runs in the fourth inning by the scalding-hot Furcal and then Andre Ethier (both of them 2 for 4). According to True Blue L.A., Casey Blake became the first Los Angeles Dodger to score three runs without a hit or walk.
Furcal is now hitting .338 with a .384 on-base percentage and .500 slugging percentage in 226 plate appearances, 22 plate appearance short of what he needs to qualify for the leaderboards. Among those on the team with at least 248 plate appearances, only Ethier has a higher slugging percentage than the 5-foot-8 Dodger shortstop. And Furcal lost a few digits when his 400-foot blast to center field ended up being only a single, because Kershaw (running from first base) thought it was caught and started heading back from second base back to first. Furcal, trying to get Kershaw's attention, was called out for passing Kershaw on the bases.
James Loney reached base four times, and Matt Kemp added a homer and double. Xavier Paul, in his first game back from Albuquerque, had two singles and a three-ball walk after a moment of home-plate umpire confusion. The game-winning RBI went to Blake DeWitt (2 for 5), who had a bases-loaded single in the second inning.
Arizona made two errors in that inning, then made errors on three consecutive batters in the third. Former Dodger Tony Abreu, playing shortstop tonight, made his third error of the game in the fifth inning.
Clayton Kershaw was effective, if not entirely efficient. He crossed the 100-pitch mark in the sixth inning, and with the 14-run lead, Joe Torre pulled him out. Kershaw allowed only four hits and two walks while striking out eight. By entering with at least three innings remaining, Travis Schlichting had a save opportunity, but was hit for after getting seven outs on 40 pitches. Jonathan Broxton, who hadn't pitched since Sunday's debacle, was eased back into action. Broxton lost the team shutout by giving up his first homer since August 15 – both the then- and now-homers were hit by Mark Reynolds, but got the next three batters to end the game.
The Dodgers have split the series so far but lead on goal differential, 19-13.
* * *
Carlos Monasterios pitched three shutout innings in tonight's rehab start with Albuquerque.