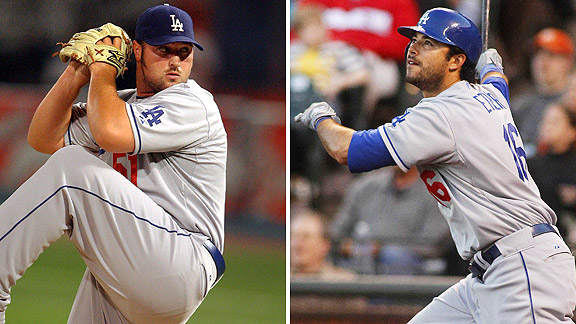 Getty Images/US Presswire Anaheim Time
Andre Ethier was named to the National League All-Star team, announced this morning. Jonathan Broxton was selected for the NL bullpen.
Ethier has been coming on for some time now, but grabbed the nation's attention with his Triple Crown start to 2010. Interestingly, this announcement comes with Ethier feeling something to prove again, following his post-pinkie injury slump. But he should come around.
Rafael Furcal (.884 OPS, 142 OPS+, 12 steals) is the NL's most valuable shortstop this season, according to Fangraphs, but his surge unfortunately came too late to make an impact on the fan/player/manager selectors. Jose Reyes (.741 OPS, 100 OPS+, 19 steals) got the call to back up Hanley Ramirez ahead of Furcal.
Moreover, in its desire for versatility the NL found a spot for Atlanta utility player Omar Infante (.721 OPS in 56 games).
Former Dodger third baseman Adrian Beltre, an MVP candidate this year for Boston, made his first All-Star game.
Who chose whom? MLB.com has the answer:
NL Player Ballot position players include catcher Brian McCann of the Braves, first baseman Adrian Gonzalez of the Padres, shortstops Troy Tulowitzki of the Rockies, third baseman Scott Rolen of the Reds, Prado, and outfielders Corey Hart of the Brewers, Matt Holliday of the Cardinals and Marlon Byrd of the Cubs. Because Tulowitzki is on the DL and unavailable, he is replaced by Reyes, who was the next choice on the Player Ballot behind him.

NL Player Ballot pitchers include starting pitchers Ubaldo Jimenez of the Rockies, Roy Halladay of the Phillies, Josh Johnson of the Marlins, Tim Lincecum of the Giants and Adam Wainwright of the Cardinals, along with relievers Matt Capps of the Nationals, Brian Wilson of the Giants and Jonathan Broxton of the Dodgers.

From there, Manuel, in conjunction with MLB, filled out his roster with the following: first baseman Ryan Howard of the Phillies, second baseman Brandon Phillips of the Reds (replacing Utley), infielder/outfielder Omar Infante of the Braves, outfielders Michael Bourn of the Astros and Chris Young of the Padres, and pitchers Chris Carpenter of the Cardinals, Yovani Gallardo of the Brewers, Tim Hudson of the Braves, Evan Meek of the Pirates and Arthur Rhodes of the Reds.